State Secretary Kajzer participates in informal meeting of development ministers
Today, on 29 September, State Secretary Tone Kajzer participated in an informal video conference of the European Union Foreign Affairs Council in the format of development ministers, focusing on relations with Africa, the state of play of EU-ACP Post-Cotonou negotiations and the situation in Belarus.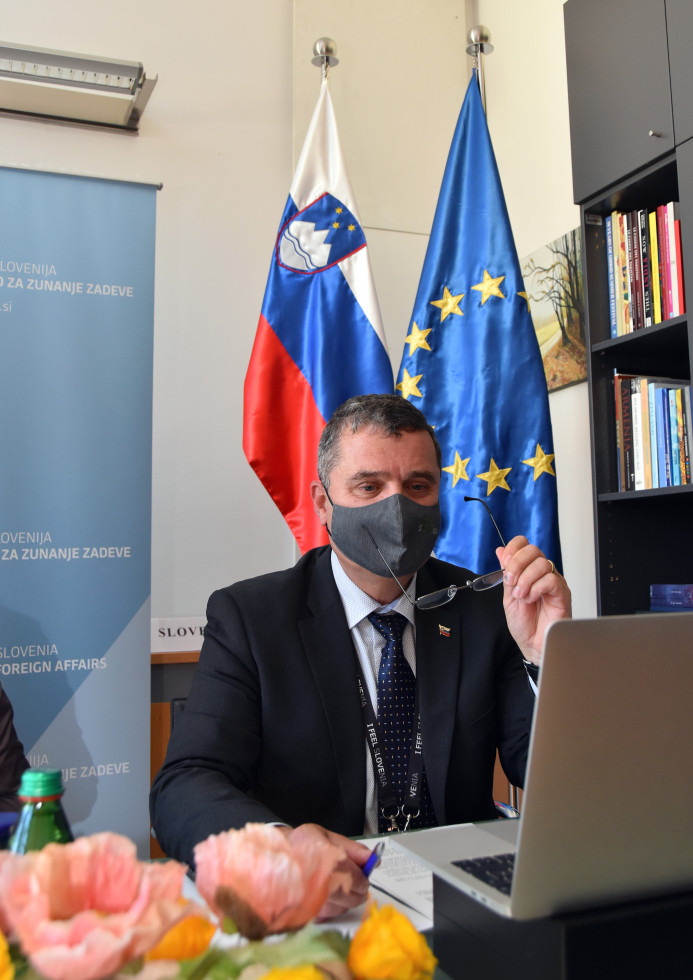 State Secretary Tone Kajzer
Group photo of all participants
The ministers addressed the impact of the COVID-19 pandemic on the African continent and the EU's support through the Team Europe package. Participating in the conference as a guest was David Beasley, Executive Director of the United Nations World Food Programme, who outlined the ramifications of the pandemic on food security in Africa. The ministers also touched upon matters ranging from the green transition and recovery to debt cancellation and new investments in Africa. During the ensuing debate on the planned postponement of the AU-EU summit to 2021, the ministers exchanged views on what might be achieved in the extra months in order not to lose the political momentum.
State Secretary Kajzer noted that the COVID-19 pandemic has brought about even greater challenges in ensuring food security, with Africa being the most severely affected, experiencing the highest rate of famine in the world. He stressed the importance of water, both for containing the spread of COVID-19 and for resolving a number of other pressing issues in Africa, among which food security can be counted.
Later on in the meeting, Jutta Urpilainen, European Commissioner for International Partnerships, outlined the status of the Post-Cotonou negotiations during the concluding phase. After the summer break, the negotiations resumed in September, but the so-called package deal on key outstanding issues (human rights and migration) is still in the pipeline. With regard to other topics on the agenda, State Secretary Kajzer underlined the importance of adopting a binding and functional instrument on migration, particularly concerning the return of irregular migrants.
At the request of Sweden, the ministers addressed the worrying situation in Belarus in the wake of the presidential elections in August. Sweden stressed the importance of communication with civil society actors, and advised to proceed with caution concerning the introduction of new budget support programmes for state actors in Belarus.