Minister Dr Anže Logar visits Rome
Minister of Foreign Affairs Dr Anže Logar met with the Italian Minister of Foreign Affairs and International Cooperation, Luigi Di Maio. Today's was the second meeting the pair have held in the last two weeks. He also met with the Italian Minister for European Affairs, Vincenzo Amendola.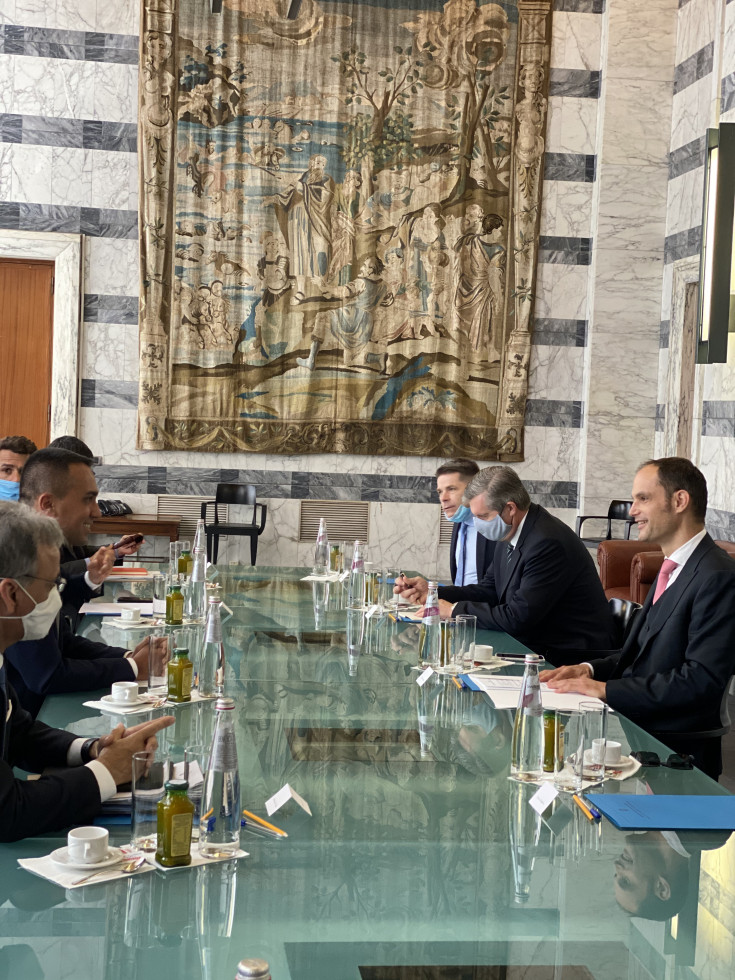 Minister Logar with Minister for European Affairs of the Republic of Italy Vincenzo Amendola
Minister Logar and Minister of Foreign Affairs and International Cooperation of the Republic of Italy Luigi di Maio
Ministers Logar and Di Maio underlined the importance of cooperation between the two countries and continual exchange of information when tackling the Covid-19 pandemic. Since 15 June, border-crossing restrictions no longer apply for the citizens of both countries. The counterparts agreed on the need for regular monitoring of the epidemiological trends at home as well as in other countries, and to respond accordingly to prevent a new outbreak of the pandemic. They exchanged views on the epidemiological situation in third countries, especially in those of the EU's immediate neighbourhood, advocated for further close cooperation in facing the pandemic, and emphasised the need for regular coordination at the EU level.

On the subject of bilateral relations, which proved to be even stronger during the pandemic, the ministers confirmed the excellent relations between the two neighbouring and EU partner countries as well as NATO allies. They also affirmed their intent to organise the next meeting of the Coordination Committee of Ministers between Slovenia and Italy this autumn.

Minister Logar highlighted the issue of representation of the Slovenian minority in the Italian Parliament and drew attention to the great symbolic meaning of the centenary ceremony of the arson attack on the National Hall, which will take place on 14 July in Trieste and will be attended by both foreign ministers. This commemoration will be crucial in the process of reconciliation between the two nations.

Regarding European affairs, Minister Logar exchanged views with both ministers on the European Council Conclusions adopted on 19 June 2020, especially the conclusions on the proposal for the multiannual financial framework and the new recovery instrument. He agreed with Minister Amendola that the instrument should be adopted at the earliest possible opportunity. They also discussed the Conference on the Future of Europe. Minister Logar outlined the priorities of the Slovenian Presidency of the Council of EU and the 18-month programme of the Trio (Germany, Portugal, Slovenia), while Minister Amendola pledged his full support to Slovenia during the presidency in the second half of 2021.