State Secretary Dovžan and Acting Secretary-General Drofenik joined a virtual presentation of the German Presidency's priorities
State Secretary Gašper Dovžan and Acting Secretary-General at the Ministry of Foreign Affairs of the Republic of Slovenia, Jožef Drofenik, took part in today's informal online meeting of EU state secretaries and secretaries-general.

The meeting, organised by the German EU Council Presidency and the European External Action Service, aimed to present the German programme for the EU Council Presidency. Germany takes over the rotating EU Presidency on 1 July 2020.
German Foreign Minister Heiko Mass announced in a video message that Germany would take up the Presidency of the Council of the European Union with the clear mandate "Together for Europe's recovery". In the six months thereafter, Germany will focus on fostering solidarity and our collective ability to strengthen the global role of the EU and its strategic autonomy. Europe must become a world leader in foreign affairs and speak with a single powerful voice, stated Minister Maas.
Germany's very ambitious agenda was presented by State Secretary at the German Ministry of Foreign Affairs Miguel Berger. As already announced in the Franco-German proposal aiming to relaunch the economy, Germany's priority is to accelerate the adoption of the Multiannual Financial Framework and the EU Recovery Plan. At the same time, it will continue the efforts regarding future relations with the United Kingdom in the fields of digitisation, the European Green Deal, migration, and the rule of law. Helga Schmid, Secretary General of the European External Action Service, added that a strong, unified Europe is needed to successfully respond to external challenges.
The German State Secretary thanked Croatia for having done an excellent job in unprecedented conditions, never before encountered by any state during its Presidency, and then gave the floor to trio partners Portugal and Slovenia.
State Secretary Dovžan underlined Slovenia's efforts for strengthening Europe's resilience and member states' coordinated response in crises like the pandemic, migration, and cyber attacks. He expressed full support for Germany's plans for how to exit the crisis and evaluate the experience gained, underlining the urgency to agree on the Multiannual Financial Framework and the economic recovery fund.
The Portuguese Secretary General Alvaro Mendonça E Moura informed the participants that, as a result of the current crisis, the Trio programme had to be adapted to the new situation, emphasising that the crisis had revealed the importance of health care and the social pillar for citizens.
Portugal will organise the next meeting of EU state secretaries and secretaries-general before taking over the EU Council Presidency on 1 January 2021.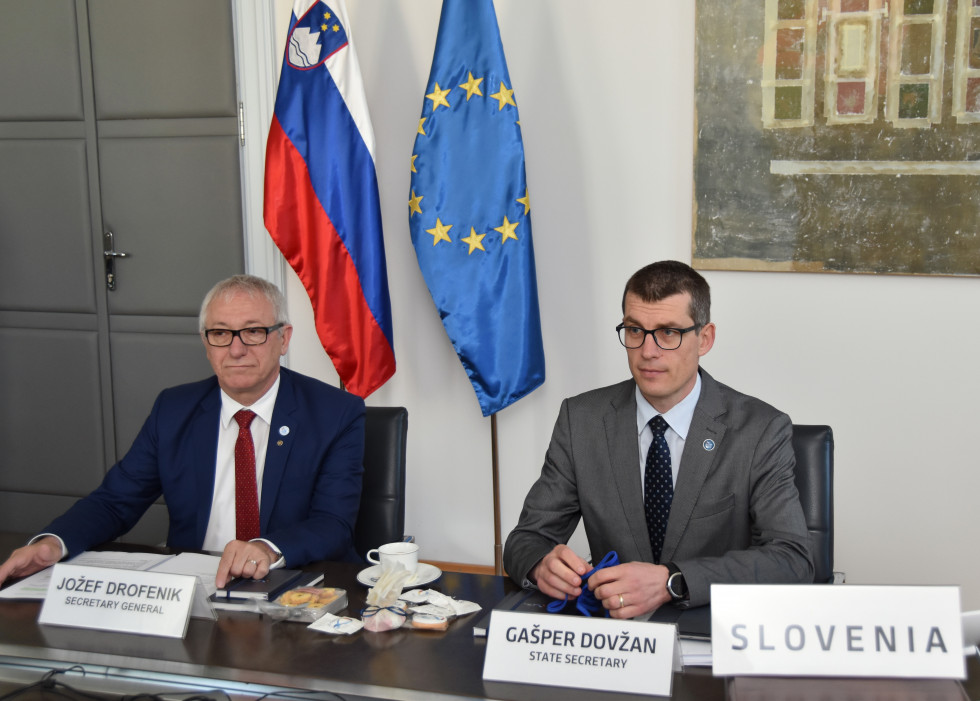 Virtual meeting of state secretaries and secretaries-general from Foreign Ministries of EU Member States and the EEAS
State Secretary Gašper Dovžan and Secretary-General Jožef Drofenik