FM Logar at the AII and EUSAIR meeting on the role of green connectivity in the Adriatic-Ionian macroregion
At the invitation of Serbian Foreign Minister Ivica Dačić and Minister of European Integration Jadranka Joksimović, Minister of Foreign Affairs Dr Anže Logar today participated in an audio-video conference of the Adriatic and Ionian Initiative (AII) and the EU Strategy for the Adriatic and Ionian Region (EUSAIR). The ministers exchanged views and incentives regarding the role of the AII and EUSAIR, and discussed ways of successful regional cooperation in alleviating the impact of the Covid-19 pandemic. At the meeting, Minister Logar presented the programme of the Slovenian AII and EUSAIR chairmanship, which will officially be assumed on 1 June 2020.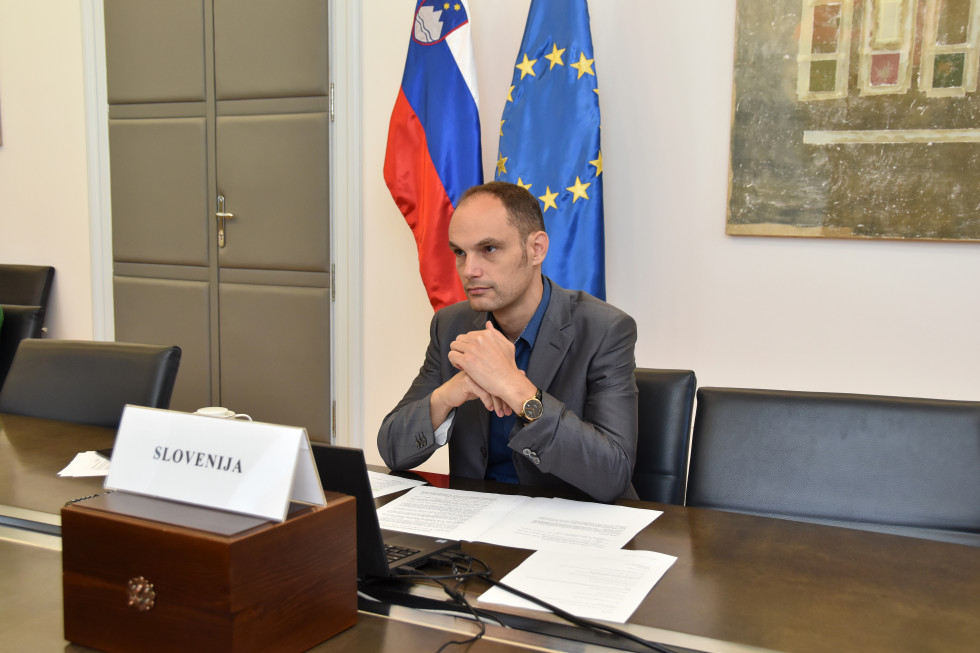 Minister Logar at the AII and the EUSAIR meeting
Minister Logar at the AII and the EUSAIR meeting
Minister Logar began his address by thanking Serbia for its successful chairmanship of the Initiative and Strategy despite the extraordinary circumstances due to the Covid-19 pandemic. He went on to thank all ministers for the activities their respective ministries undertook in the repatriation of Slovenian citizens and expressed satisfaction with the close cooperation between health care institutions and police forces which played a vital role in the rapid movement of essential goods among the EU and Western Balkans states.
Further on, Minister presented Slovenia's AII and EUSAIR chairmanship priorities. As Slovenia coordinates EUSAIR Pillar 3: Environmental Quality together with Bosnia and Herzegovina, "green connectivity" will be in the focus of its chairmanship. "Our chairmanship will also be directed at making the Covid-19 recovery green," said Minister Logar. This is why it is essential that the countries keep their commitment to the allocation of funds under the new financial perspective reflecting the common strategic macro-regional priorities for the Adriatic-Ionian Region.
Another important topic of the chairmanship programme is the Western Balkans, where Slovenia will strive for the implementation of the Green Agenda. Special attention will continue to be devoted to advancing the EU enlargement process; in that context Minister Logar expressed satisfaction that Albania and North Macedonia will begin EU accession negotiations.
The AII and EUSAIR member states agreed to harmonise the Belgrade Declaration by 18 June. The declaration will comprise messages regarding specific Covid-19 pandemic challenges.
Minister Logar concluded his address by presenting the measures with which Slovenia successfully tackled the Covid-19 epidemic. Due to a plethora of common topics and priorities, Slovenia's AII and EUSAIR chairmanship serves as an introduction to its Presidency of the EU Council in the second half of 2021, added Minister Logar.
This will be Slovenia's third AII chairmanship (2003–2004 and 2012–2013) and its first chairmanship of the EUSAIR. Slovenia plans to continue the work of previous chairmanships while focusing on economic cooperation and mitigating the consequences of Covid-19 in an environmentally friendly and sustainable way.