Slovenian and Croatian foreign ministers on cross-border cooperation and joint post-Covid-19 measures
Ministry of Foreign Affairs
Today, Foreign Minister Dr Anže Logar met with Croatian Minister of Foreign and European Affairs Dr Gordan Grlić Radman at the Dragonja border crossing.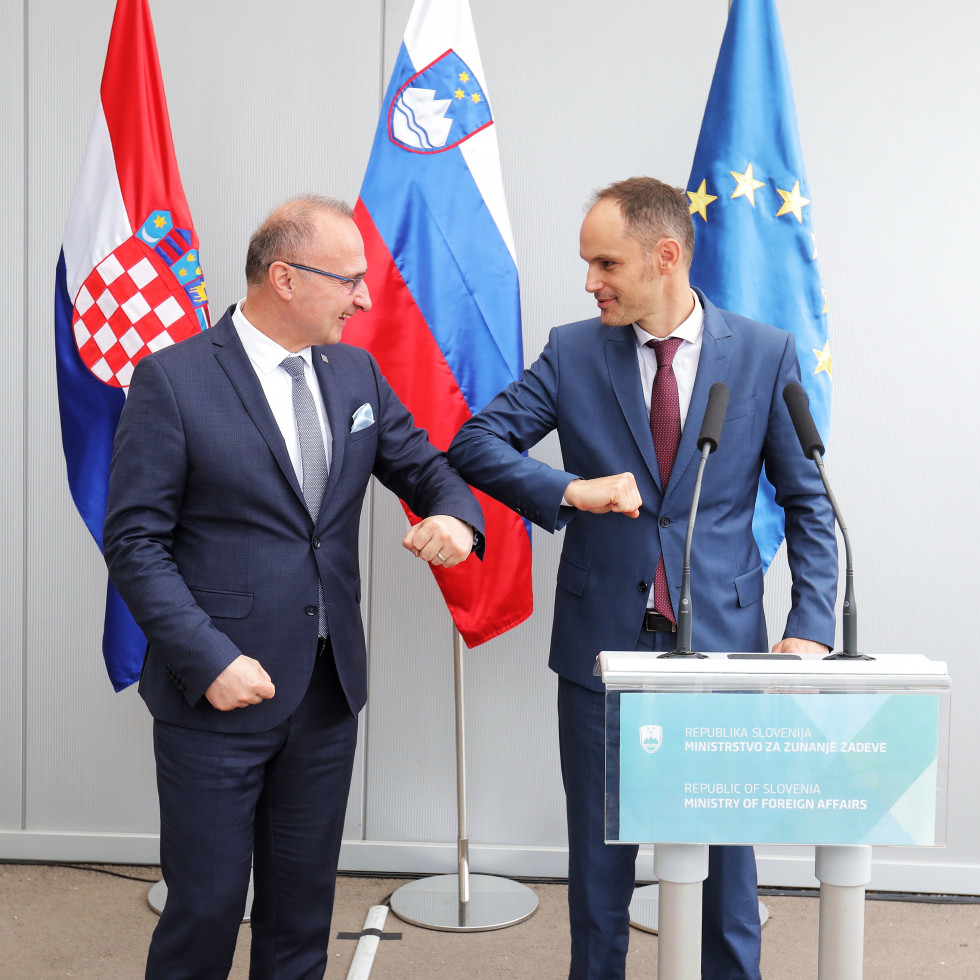 Srečanje slovenske in hrvaške delegacije
Minister za zunanje zadeve dr. Anže Logar se je danes na mejnem prehodu Dragonja – Kaštel srečal s hrvaškim ministrom za zunanje in evropske zadeve dr. Gordanom Grlićem Radmanom.
Tiskovna konferenca ministra za zunanje zadeve dr. Anžeta Logarja s hrvaškim ministrom za zunanje in evropske zadeve dr. Gordanom Grlićem Radmanom.
This was the first live meeting of the foreign ministers of the two neighbouring countries, who have held a number of telephone and video conference calls since the beginning of the Covid-19 epidemic.
Ministers Logar and Grlić Radman agreed that throughout the epidemic, communication between Slovenia and Croatia had been good at all levels. The two countries have cooperated in facilitating freight transit, and assisted each other in the repatriation of their nationals. They have also sought joint solutions in determining exemptions from restrictive measures applying to, for example, owners of land on both sides of the border, cross-border workers and other persons crossing for urgent reasons.
The talks focused on loosening restrictive measures between EU Member States to gradually re-establish the free movement of persons, all the while taking into account the epidemiological situation in particular countries. Croatia was the first to be put on a list of countries whose nationals are no longer required to undergo quarantine upon entering Slovenia. The ministers also discussed EU action to tackle the economic, fiscal and other consequences of the pandemic.
They went on to evaluate cross-border cooperation between the two countries, one of the issues being renovation of the infrastructure in the border area, including the bridge at the Dragonja-Kaštel border crossing. The two governments have already harmonised the text of the agreement on the construction of a new bridge, which is expected to be signed shortly.