Minister Logar on a virtual visit to Berlin
In a videoconference call, Ministers Logar and Maas confirmed excellent relations between Slovenia and Germany and their shared positions on a number of important international issues. This was Minister Logar's introductory visit to Berlin, which took place virtually due to the Covid-19 pandemic.

Minister Logar stressed the importance of political and economic ties with Germany, Slovenia's most important foreign trade partner. He welcomed the strategic partnership between the two countries and expressed support for the activities aimed at implementing the 2019-21 working programme.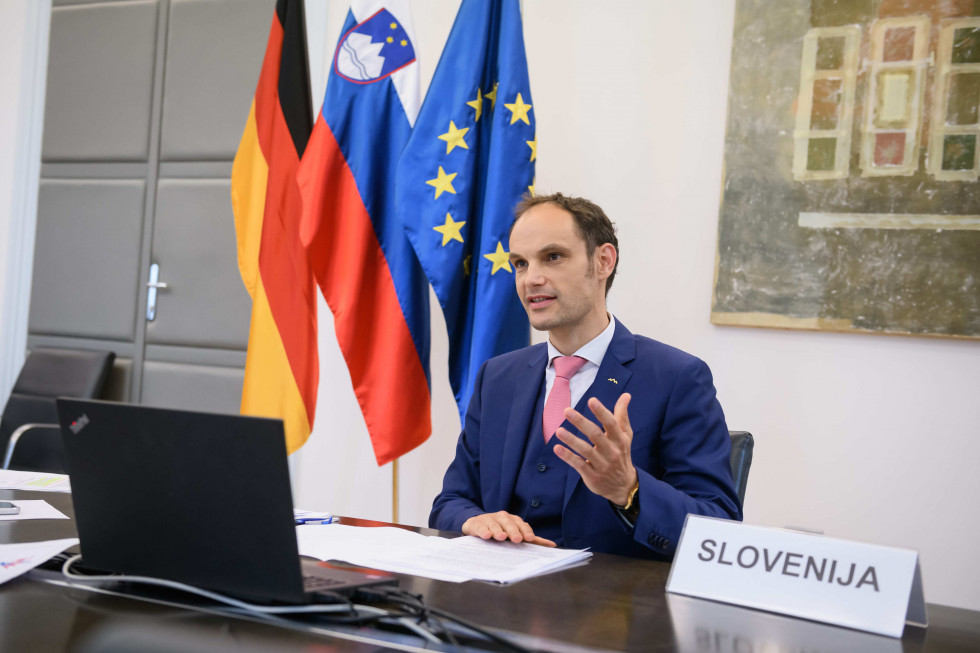 German Minister of Foreign Affairs Heiko Maas
Videoconference call
Minister of Foreign Affairs dr. Anže Logar holding the white flag, symbol for the fight against the coronavirus and as support for medical personnel.
The central topic of the conversation was the upcoming presidency of the Council of the European Union following the Covid-19 pandemic. The ministers expressed satisfaction with the excellent collaboration within the EU Council trio presidency, together with Portugal. They agreed that the presidency programme will need to take into account the new reality following the pandemic and face unanticipated challenges in the international community.
Ministers Logar and Maas pointed out the importance of solidarity between EU Member States and called for coordinated measures aimed at overcoming the current public health crisis. They devoted special attention to the financing of actions to promote economic recovery and a common agreement within the European Union aimed at abolishing restrictions in its Member States.
The ministers voiced support for broad international cooperation and an effective concerted response to the Covid-19 pandemic. The Slovenian Foreign Minister thanked Germany for its efforts in the fight against the disease within the Alliance for Multilateralism, and the German Foreign Minister commended Slovenia for its successful fight against the disease.
A first virtual press conference was held after the talks.