Prime Minister Janez Janša took note of the situation in the Metlika Nursing Home
Today, Prime Minister Janez Janša took note of the situation in the Metlika Nursing Home, where several staff members and residents were infected with the new coronavirus some time ago. He thanked those responsible for their responsiveness and cooperation and assured that the Crisis Staff and the Government were doing everything they could to minimise the spread of the virus in Slovenia.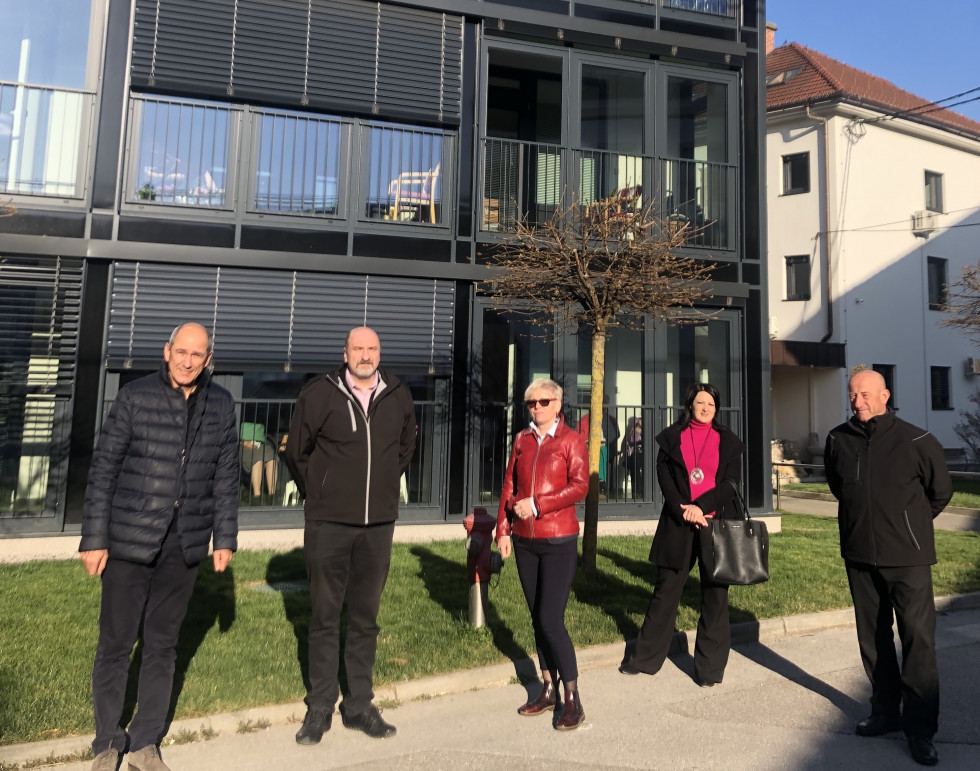 Prime Minister Janez Janša took note of the situation in the Metlika Nursing Home
According to him, the Government is also making every effort to provide enough protective equipment to healthcare and other institutions, including nursing homes, in order to help them better cope with the epidemic.
Among the participants in the meeting with Prime Minister Janša were Metlika Nursing Home Director Iva Lozar, Metlika Mayor Darko Zevnik and Metlika Civil Protection representative Peter Šneljer.
On the margins of the visit, Director Lozar said they were glad their requests for assistance have finally been heard. "It has been agreed that volunteers and nurses will arrive tomorrow so that we can return to our normal work schedule. Today, two representatives of the Ministry of Health arrived to volunteer and provide us with expert assistance," she said. In this way, the employees who have been overwhelmed until now will have their workload at least somewhat reduced.
According to Mayor Zevnik, the current situation in Metlika reflects the situation in Slovenia as a whole. He said that the community health centre where the first outbreak of the infection in Metlika occurred – which was subsequently transmitted to the nursing home – has already been rehabilitated and has implemented an adapted work programme. The situation in the nursing home, however, is still adverse. "To date, we have somehow managed to provide adequate equipment, and we now hope that this will continue in a more normal way and that matters will be organised on a systemic basis," said the mayor.
According to Civil Protection representative Šneljer, the Metlika Civil Protection is working at full capacity. "We are organised, the tasks are divided and we are working on them. We knew that we would primarily have to depend on ourselves," he said. Following today's visit of the Prime Minister, he expects it will be easier to obtain protective equipment that will provide Civil Protection members with more protection when going on interventions.