Foreign Minister Logar meets Hungarian Foreign Minister Szijjártó
The Minister of Foreign Affairs, Anže Logar, hosted the Minister of Foreign Affairs and Trade of Hungary, Péter Szijjárto, in Ljubljana today. The visit was aimed at establishing personal links between the ministers of two neighbouring countries in an emergency situation, when all European and other countries all over the world are facing the coronavirus pandemic.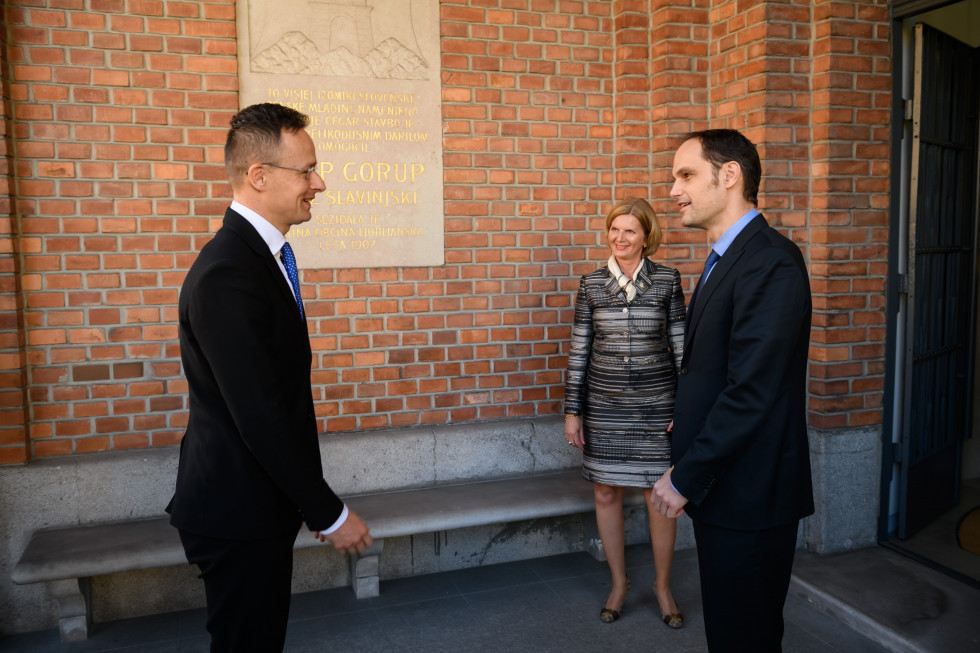 Minister of Foreign Affairs and Trade of Hungary Péter Szijjárto and Minister of Foreign Affairs Anže Logar
Talks between Minister of Foreign Affairs Anže Logar and Hungarian Minister of Foreign Affairs and Trade Péter Szijjárto and their delegations
Minister of Foreign Affairs Anže Logar
The ministers exchanged information on measures taken by both countries to stop the spread of coronavirus and protect the health of their citizens on both sides of the border. The recently adopted measures introduce various border crossing regimes for the transport of both goods and passengers. Minister Szijjarto assured that freight transit will not be blocked if the restrictions are complied with.
Minister Logar outlined the diplomatic activities during the past few days which, in cooperation with seven countries in the region, paved the way for the humanitarian convoys. The first convoy of large goods vehicles and buses with passengers stranded at the Slovenian-Italian border departed on Saturday evening. Minister Logar stressed the importance of today's visit by his Hungarian colleague, as they agreed on the possibility for freight transit through Hungary.
The ministers pointed to the need for better coordination at the EU level and went on to express the hope that today's videoconferences with national internal affairs and health ministers as well as the upcoming videoconference with EU leaders would quickly and effectively create new transport corridors.
The ministers also touched on other bilateral and European topics, focusing on the situation of the two national communities, infrastructure projects, and migration crisis measures.
After the meeting, the ministers gave a statement to the media, outlining the main topics of discussion. Minister Logar thanked the Slovenian Police, the Civil Protection and DARS for their cooperation and assistance in escorting humanitarian convoys. Due to the emergency situation, he again called upon citizens to refrain from travelling and stay at home.