Stockholm: Minister Dr Cerar meets compatriots living in Sweden
Ministry of Foreign Affairs
Foreign Minister Dr Miro Cerar is paying a working visit to Sweden; yesterday, he met Swedish Foreign Minister Ann Linde and Chair of the Committee Andreas Norlén. Today, at the general meeting of the Slovenian Association in Sweden, the Foreign Minister addressed Slovenian compatriots living in Sweden and thanked them for preserving the Slovenian identity and mother tongue.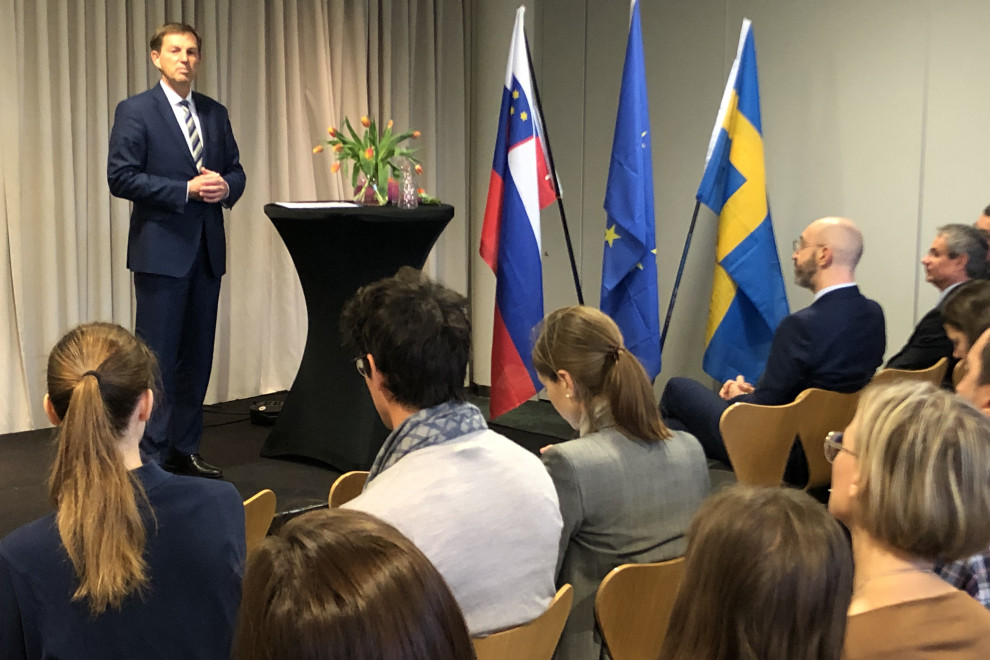 Performance by the Triglav Choir
Performance by Dani Stražar, a translator and a teacher
Skupinska fotografija
"The Slovenian community in Sweden is one of the largest Slovenian communities in this part of Europe," said the Foreign Minister in his address, adding that fellow Slovenians in Sweden have an essential role in bringing Slovenia and Sweden closer to one another. Furthermore, he expressed the significance of their cooperation and the promotion of Slovenia in the fields of culture, economy, science and education.
"Slovenia and Sweden are friendly countries bound by shared values. Both of them advocate for human rights and the rule of law. What is more, they strive to reduce the negative impact of human activities on climate and promote sustainable development and green technologies," continued Minister Cerar, before going on to describe his talks with Swedish counterparts.
The Minister reminded the audience of yesterday's International Mother Language Day. "It is my great honour to talk in Slovenian in the middle of the Swedish capital to compatriots who use, nurture and preserve their mother tongue so far away from Slovenia."
"I want to thank all those who provide incentives for the promotion of the Slovenian language and culture as well as preserving the Slovenian identity and the strong bonds with Slovenia. Thank you for your contributions to making the relations between Slovenia and Sweden closer and friendlier," concluded Minister Cerar.
The cultural part of the programme included a performance by the Triglav Choir and Dani Stražar, a translator and a teacher.