Minister Dr Cerar's message for mentors of Euroscola and European Parliament Ambassador School programmes: "EU is Slovenia's most important natural environment!"
Today, the State Secretary, Dobran Božič, took part in a working meeting of State Secretaries and Secretaries-General of EU Member States' Foreign Ministries, hosted by the Secretary General of the European External Action Service (EEAS), Helga Schmid.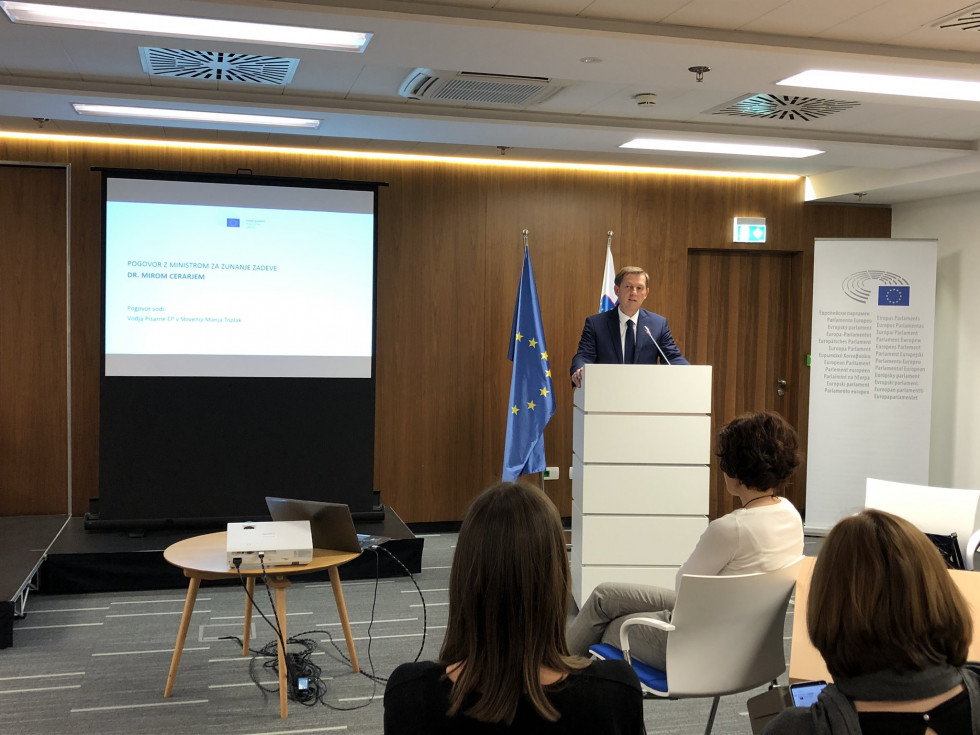 Minister Dr Cerar addresses participants in the Euroscola and European Parliament Ambassador School projects at the House of the European Union.
The projects are intended for Slovenian high schools and vocational schools and are raising awareness among the young about European values and European parliamentary democracy. In addition to teaching about the EU, the programmes foster discussion and appreciation of European citizenship, more specifically – what the EU means in everyday life and what we can do to create the Europe of the future we would like to live in.
In his opening address, the Minister thanked the Head of the Information Office of the European Parliament in Slovenia, Manja Toplak, for the invitation. He went on to thank the mentors for all the hard work they had put into the realisation of both projects alongside the organisers. In conversation with the mentors, he also addressed specific activities of Slovenia's preparations for the Presidency of the Council of the EU in the second half of 2021, as well as Brexit and the arbitration proceeding, and listened with interest as they described their initiatives.
Minister Cerar stressed that the European Union is Slovenia's most important natural environment, adding that "the main idea behind the creation of Europe was peace, which is also the prevailing EU objective and the reason it is perceived as a success story or even as an example of cooperation between different nations, countries, cultures, religions and languages."