EU Ministers on the importance of stabilisation of Sahel, the ceasefire in Libya and climate diplomacy
Ministry of Foreign Affairs
The situation in the Sahel, Libya and climate diplomacy were among the topics on the agenda today at the January Foreign Affairs Council in Brussels, attended by Foreign Minister Dr Miro Cerar.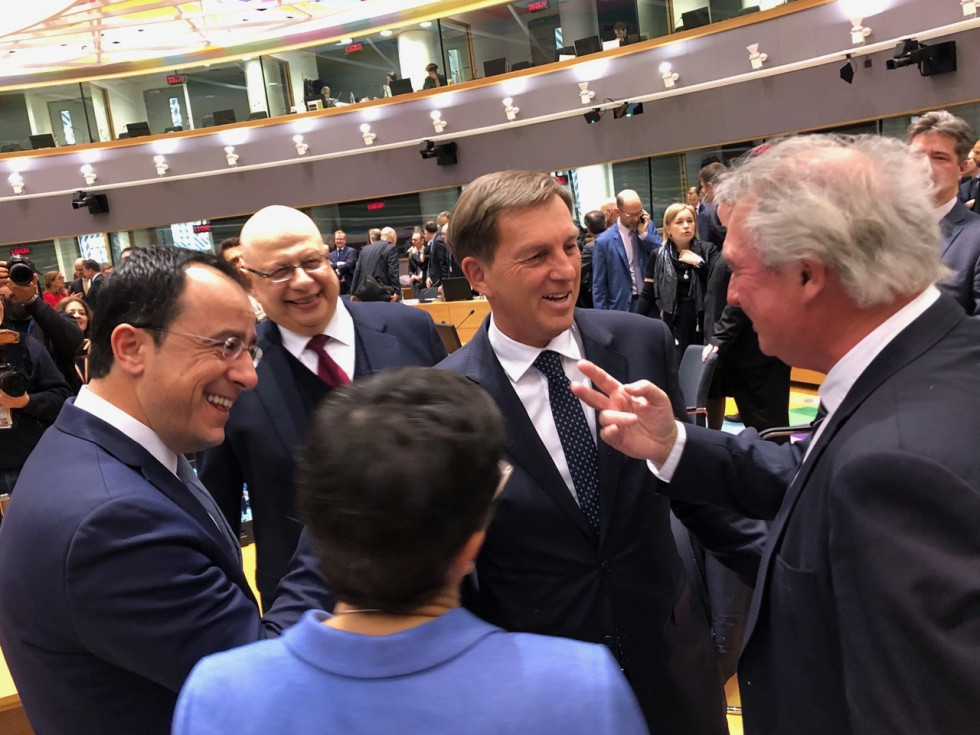 Foreign Minister Dr Miro Cerar, Hungarian Foreign Minister Peter Szijjarto and Commissioner for Neighbourhood and Enlargement Olivér Várhelyi
Foreign Minister Dr Miro Cerar and Minister of Foreign Affairs, the EU and Cooperation of Spain Arancha González Laya
Foreign Minister Dr Miro Cerar and Minister of Foreign and European Affairs of Luxembourg Jean Asselborn
The Ministers were updated on the outcome of the Berlin conference on Libya, which took place just the day before, where the participants discussed the urgent need to ensure a durable peace. The Council agreed that the UN should have a central role in the Libyan political process, supporting the efforts of the High Representative and Member States directed towards achieving a lasting political solution for the country.
Minister Cerar underscored Slovenia's support for the implementation of all 55 of the points agreed in Berlin, in particular the ceasefire, arms embargo and efforts to reach an agreement on a unified Libyan government.
EU Ministers also discussed the deteriorating security situation in the Sahel. They agreed on an integrated EU approach combining both the security aspects and development aid. The Slovenian Minister supported the initiative to involve regional organisations, such as ECOWAS and the African Union, if we are to find permanent solutions for the stabilisation of the region. In the margins of the March European Council, a high-level meeting on the Sahel will be organised between G5 Sahel and representatives of the African Union to give new impetus to the security and development processes.
Fully aware that stability in Mali is vital for the stability of the entire region, Slovenia is currently involved in a local training mission with eight members of the Slovenian Armed Forces. In the past few years, Slovenia has also contributed EUR 120,000 to the EU Trust Fund for Africa and for development aid.
In addition, the Council discussed climate diplomacy. International cooperation is crucial if the fight against climate change is to be successful. Minister Cerar emphasised that "Slovenia has played an active role when it comes to climate diplomacy. A few years ago, we established the Green Group connecting small countries in the promotion of green policies." The last meeting of the Green Group took place several weeks ago in the United Arab Emirates, which is one of the members along with Cabo Verde, Costa Rica, Iceland, Singapore and Slovenia.
Slovenia commends the EU's strong position at the global level concerning climate commitments to mitigate the consequences of climate change and advocates the preparation of a green agenda for the Western Balkans.