Minister Dr Cerar: Slovenia supports Serbia on its path towards Europe
Foreign Minister Dr Miro Cerar concludes his two-day official visit to Belgrade. Foreign Minister Dr Miro Cerar and Serbian President Aleksandar Vučić met today to discuss economic cooperation between the two countries, regional challenges, the dialogue between Serbia and Kosovo, the EU's enlargement policy. At the Serbian National Assembly, the Slovenian delegation was met by its Speaker Maja Gojković.
"This has been a very dynamic year, with several high-level visits in Slovenia and Serbia, and we are delighted that a joint government session will be held in Novi Sad in a few days," said Minister Cerar. "The data on economic cooperation is encouraging and, after meeting Slovenian businesspeople on Monday evening, I can assure you that they are extremely interested in operating in the Serbian market," he added.
"Within the EU, Slovenia actively and firmly advocates the continuation of the enlargement process," Minister Cerar told Serbian President Vučić. Slovenia considers EU accession negotiations to be an important incentive for adopting reform policies in candidate countries.
The interlocutors also discussed President Vučić's "Mini-Schengen" initiative which would enable freedom to cross borders between participating states. Minister Cerar emphasised that Slovenia supports the enhancement of regional cooperation in the Western Balkans to strengthen economic links and consolidate the stability in the region.
The interlocutors also discussed the general situation in the region and the Belgrade-Pristina dialogue. Minister Cerar expressed his regret that the Belgrade-Pristina dialogue has stalled. He also said that Kosovo's insisting on customs duties on goods originating from Serbia and BiH is not constructive and called for the parties to seek a better solution.
The interlocutors also discussed the form and amount of relief assistance to Albania after the devastating earthquake; both countries have already sent help to the affected population and will continue doing so.
Minister Cerar also met Serbian National Assembly Speaker Maja Gojković, and they agreed on how valuable the exchange of experience between both Parliamentary Friendship Groups is. Minister Cerar recalled the address held by Slovenia's President Borut Pahor in the Serbian National Assembly in January, when he reassured the deputies of Slovenia's friendship and support in joining the EU. Speaker Gojković informed Minister Cerar about the talks held in Belgrade with the delegation of members of the European Parliament led by a German MEP, Manfred Weber. Slovenia was among the initiators of the 'Friends of Enlargement' group in Brussels and is active in coordinating the positions of Member States.
Minister Cerar also met separately with the Archbishop of Belgrade Stanislav Hočevar; they discussed the role of religious communities in the region in promoting the processes of reconciliation and constructive cohabitation of nations from neighbouring countries.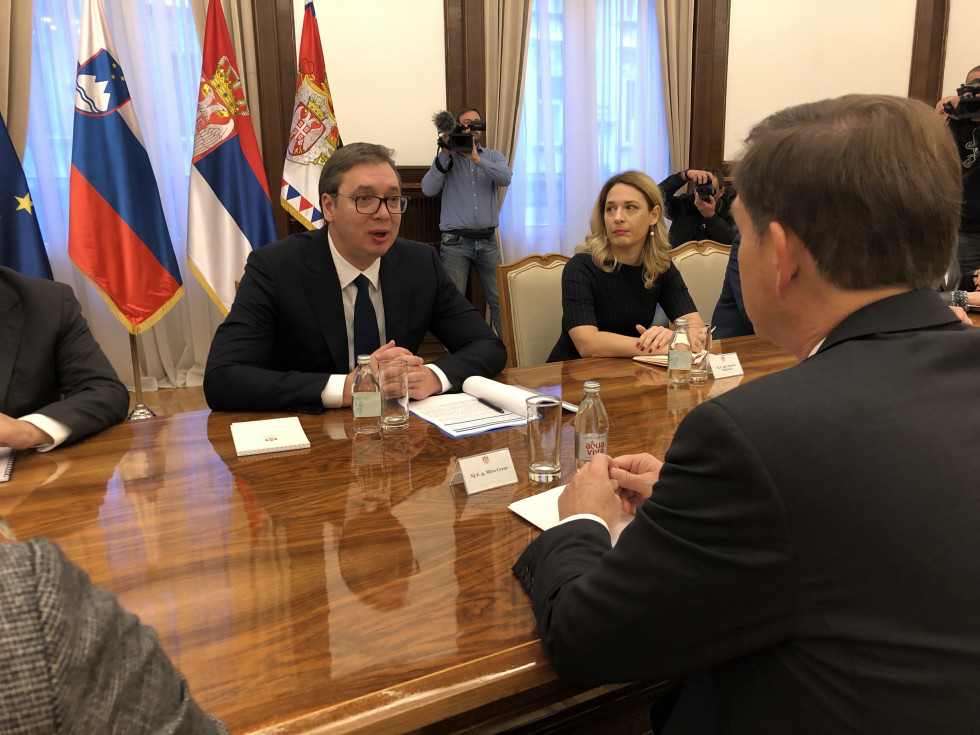 Slovenian Foreign Minister Dr Miro Cerar and Serbian President Aleksandar Vučić
Bilateral meeting between Slovenian Foreign Minister Dr Miro Cerar and Serbian National Assembly Speaker Maja Gojković
Bilateral meeting between Slovenian Foreign Minister Dr Miro Cerar and Serbian National Assembly Speaker Maja Gojković
Minister Dr Miro Cerar with Archbishop Stanislav Hočevar