Foreign Minister Dr Cerar and his Norwegian counterpart Eriksen Søreide address cooperation on the circular economy, sustainable mobility and AI
On the margins of the presidential official visit to Oslo, Minister Dr Cerar met the Minister of Foreign Affairs of the Kingdom of Norway Ine Marie Eriksen Søreide. The ministers expressed their satisfaction regarding the excellent relations in various fields, especially at the multilateral level, and pleaded for enhanced cooperation on the circular economy, sustainable mobility and AI.
The ministers focused on the diversified cooperation between the two countries and expressed interest in pursuing further collaboration, particularly on the circular economy, sustainable mobility and AI, both at the bilateral and multilateral levels. The ministers agreed to seek additional opportunities for cooperation in the field of development cooperation, including in the Western Balkan countries.
They also exchanged views on the current European issues, the future of the EU, the rule of law and migration. Both ministers underlined the readiness for cooperation during Slovenia's preparation to the presidency of the Council of the EU in the second half of 2021, particularly in fields where they have shared views and priorities. As a member of the European Economic Area, Norway is closely connected with the European Union as a reliable partner.
The EEA and Norway grants are an important instrument for the strengthening of bilateral ties. In the 2014–2021 period, Slovenia may draw EUR 34.72 million in funding, also within the bilateral fund, which is aimed at strengthening bilateral ties with donor countries.
Slovenia and Norway have been very active in the Western Balkans. The ministers agreed that active involvement and ensuring the right conditions are crucial for the region's prosperity. To achieve stability, security and a Euro-Atlantic perspective for Western Balkan countries, the focus should be placed on the rule of law, job creation and economic growth.
During the talks, ministers also touched on the cooperation in the activities of ITF – Enhancing Human Security. To date, Norway has allocated almost USD 59 million for ITF activities, thus ranking second among the institution's donors.
Both countries are fervent advocates of effective multilateralism, sharing similar opinions on many issues. Also concerning security issues, the two countries share similar views and support the unity of NATO. The ministers went on to discuss topical international issues, with special emphasis on trans-Atlantic cooperation, the Russian Federation and crisis areas around the world.
The last meeting between the ministers took place on 26 April this year, when the Norwegian Minister of Foreign Affairs held a working visit in Ljubljana, and before that on 5 December 2018 on the margins of NATO ministerial meeting. The official visit of the President of the Republic of Slovenia Borut Pahor in Norway and the high-level contacts testify to the excellent relations between the countries.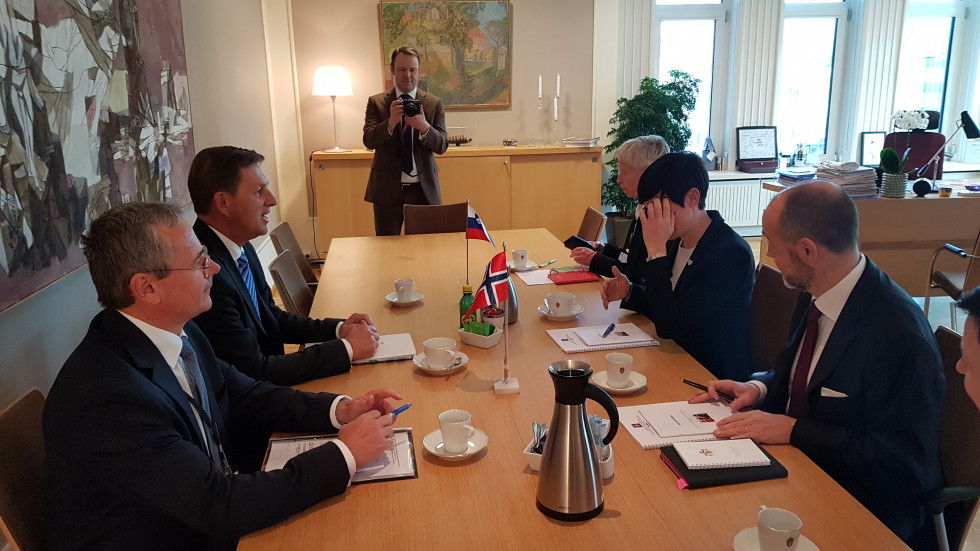 Minister of Foreign Affairs Dr Miro Cerar and Minister of Foreign Affairs of the Kingdom of Norway Ine Marie Eriksen Søreide
Minister of Foreign Affairs Dr Miro Cerar and Minister of Foreign Affairs of the Kingdom of Norway Ine Marie Eriksen Søreide