State Secretary Simona Leskovar welcomes the International Resource Panel's efforts
Ministry of Foreign Affairs
The International Resource Panel (IRP), one of the most important and eminent global research networks aiming to prevent the over-consumption of natural resources and ensure a sustainable future, continues its 25th meeting in Bled.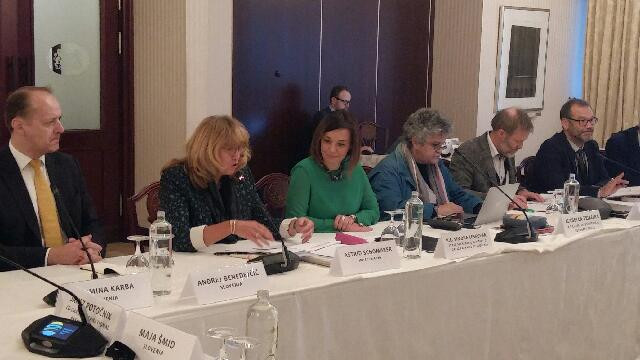 State Secretary Simona Leskovar at the joint meeting of IRP members and their Steering Group
State Secretary Simona Leskovar addressed attendees at the joint meeting of IRP members and their Steering Group. She welcomed the current IRP report, which under the heading "Global Resources Outlook 2019" recalls the importance of changing our attitudes towards the exploitation of natural resources at the global level to achieve Sustainable Development Goals and prosperity.
Slovenia supports the global efforts to transition to a low-carbon society. In its strategy, entitled "Slovenia and a healthy planet", Slovenia has already defined its long-term climate policies up to 2050 to combat global warming. State Secretary Leskovar recalled the need to move from a linear to a circular economy so as to achieve a qualitatively different way of using natural resources. She stressed that joint efforts are needed to achieve the common good, wherefore it is crucial to build a strong and effective multilateral system.
On the margins of the meeting, State Secretary Leskovar met with Dr Pedro Jensen, Head of the IRP Secretariat, and Dr Izabella Teixeira, IRP Co-Chair and Brazilian Former Minister of the Environment, to discuss the possibilities of Slovenia's increased participation within the IRP Steering Committee.