Slovenia relaunches Green Group
Ministry of Foreign Affairs
In New York, Foreign Minister Miro Cerar hosted a breakfast for ministers and senior representatives of the Green Group. The group, established by Slovenia, gathers six small countries dedicated to promoting green policies and the transition to a green economy and the use of renewables: Slovenia, Singapore, Iceland, Costa Rica, the United Arab Emirates and Cabo Verde.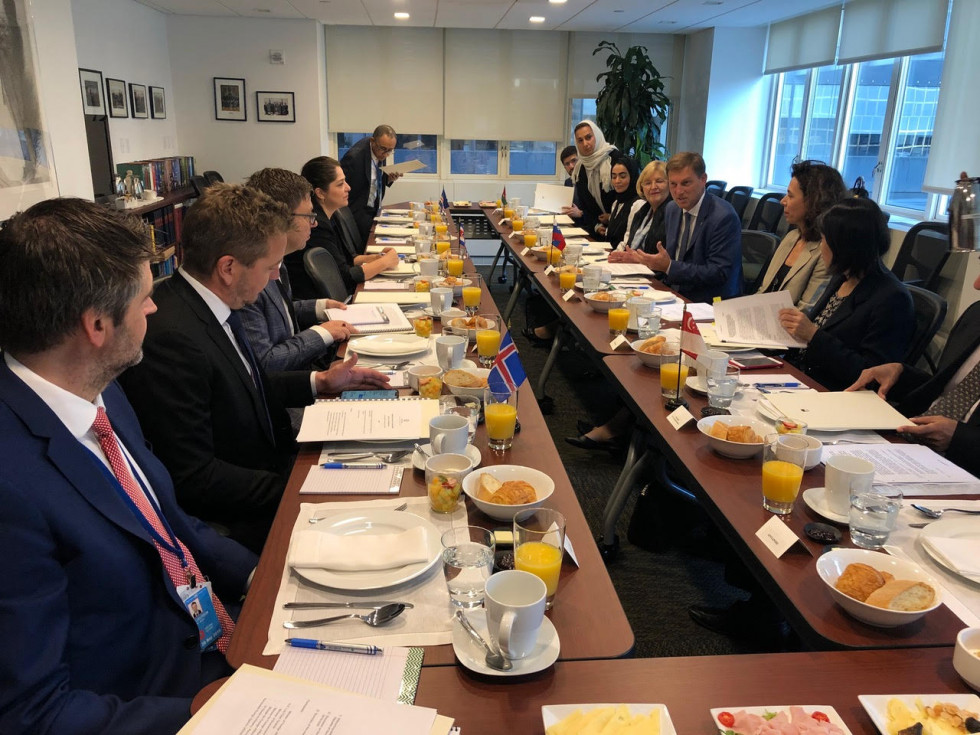 Foreign Minister Cerar with representatives of the Green Group
Minister Cerar with his Singaporean counterpart, Vivian Balakrishnan
In 2009, when environmental topics did not feature so prominently on the members' foreign policy agenda, Slovenia launched the Green Group to engage small countries from different continents in promoting green policies and the generation of energy from renewable resources, and organising joint activities on environmental awareness within international organisations and on the sidelines of major events.
"In the face of climate change impacts, members of the Green Group, especially island countries, feel particularly exposed. This calls for more decisive political action and cooperation by small countries. As a champion of multilateralism, Slovenia aspires for closer ties between these six nations that actively protect and promote a clean environment and waters," said Minister Cerar.
He proposed three areas for joint action: sustainable development, the promotion of a circular economy and the protection of biodiversity. In this regard, he underscored Slovenia's efforts for the protection of bees worldwide and the topic of water and security. Cooperation of the six countries should, in his view, include women and youth, who galvanise action against climate change and for a transition to clean energy.
The foreign ministers of Singapore and Iceland and senior representatives of Costa Rica, Cabo Verde and the UAE applauded Slovenia's efforts to reinvigorate the Green Group. They noted the importance of the group as a platform to exchange experience and good practices in introducing green policies, and they outlined various issues faced especially by island countries, such as the pollution of oceans by plastics, thinning of the Arctic ice cover and the related rising sea levels, and deforestation.
Joining Slovenia's proposal to promote sustainable development, a circular economy, energy transition and the protection of biodiversity, representatives of the Green Group endorsed drafting an action plan of joint activities within the UN and during events such as the traditional Water Week and Expo 2020.