Foreign Minister attends 74th UNGA session and high-level meeting on Syria
Prime Minister Marjan Šarec and Foreign Minister Dr Miro Cerar are participating in the 74th session of the UN General Assembly at the UN headquarters in New York. Minister of Health Aleš Šabeder, who was taking part in a high-level meeting on universal health coverage, joined them for the opening of the General Debate.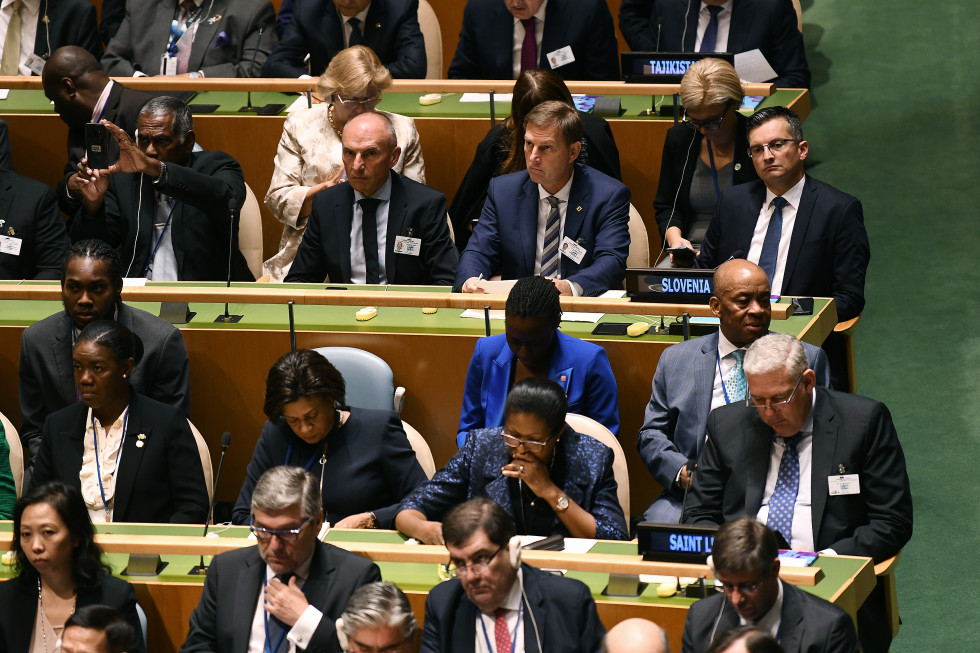 Zunanji minister dr. Miro Cerar
74. zasedanje Generalne skupščine Združenih narodov
Zunanji minister dr. Miro Cerar in moldavski zunanji minister Nico Popescu
Zunanji minister dr. Miro Cerar
On Tuesday morning, Foreign Minister Cerar met his Moldovan counterpart, Nicu Popescu. They discussed opportunities to strengthen economic cooperation and agreed that a joint economic commission should meet soon. Speaking about Moldova's reform progress as part of its EU integration process and the situation in the region, the Slovenian Foreign Minister voiced his support for the country's enhanced cooperation with the bloc.
In the early afternoon, Minister Cerar participated in an EU-hosted high-level meeting on Syria. The meeting held in the margins of the UNGA is a follow-up to donor conferences held in Brussels and at the United Nations.
Addressing the meeting, Minister Cerar considered a political solution to the Syrian conflict to be the only option possible, and he called for implementation of Security Council Resolution 2254. In the north-eastern part of the country, where a military offensive of pro-government forces has been raging since April, the humanitarian situation continues to deteriorate.
"Violations of international law and of basic human rights need to stop and justice needs to be served," underscored Minister Cerar, condemning attacks on civilians and civilian infrastructure. He commended the Independent International Commission of Inquiry on the Syrian Arab Republic for its important work. In its latest report, the Commission, which was established in 2011, warned about the bleak humanitarian situation in north-western Syria, including a severe water shortage, deplorable conditions at the Al-Hol camp, and cases of detention of returnees to government-controlled areas.
In his remarks, Minister Cerar voiced his appreciation for Syria's neighbours for hosting millions of refugees. Over the last five years, one quarter of Slovenia's total humanitarian aid has been channelled to Syria through international organisations. Since 2014, Slovenia has mainly supported projects provided by ITF Enhancing Human Security and by the Slovenian NGO Circle Institute aimed at assisting refugees in Jordan and Lebanon.