Minister Dr Miro Cerar hosts Andreas Norlén, Speaker of the Parliament of the Kingdom of Sweden
Minister Dr Cerar today met with Andreas Norlén, Speaker of the Parliament of the Kingdom of Sweden, who is paying an official visit to Slovenia between the 25 and the 27 of June at the invitation of Dejan Židan, the President of the Slovenian National Assembly. In their talks, the two high officials reaffirmed the excellent bilateral relations and expressed their mutual determination to further strengthen cooperation in various fields of common interest, both within the EU and other international forums.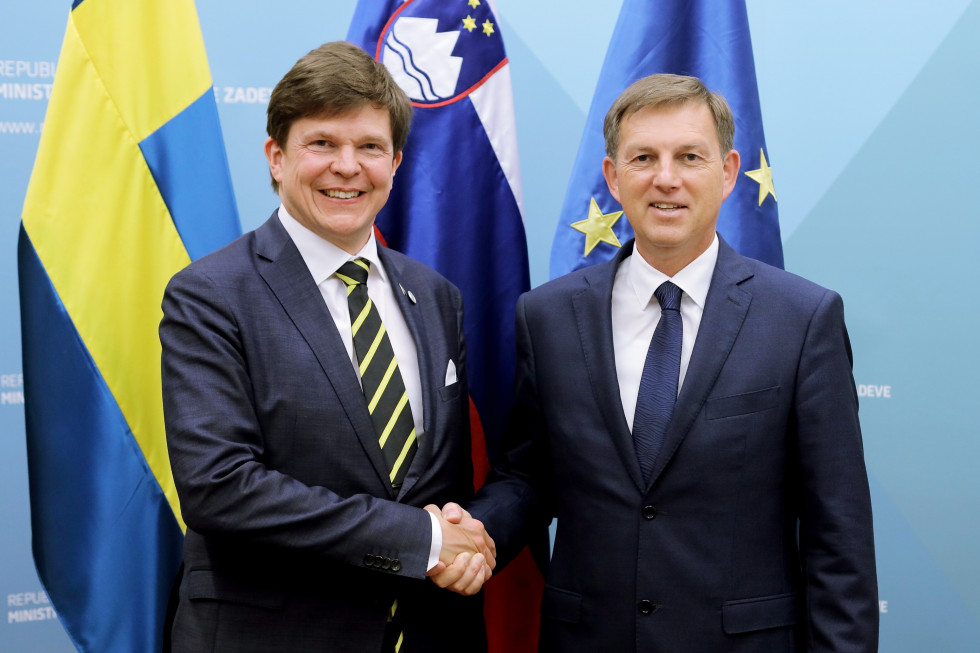 Andreas Norlén, Speaker of the Parliament of the Kingdom of Sweden and Minister Dr Miro Cerar
Talks between delegations
At the beginning of their talks, Minister Dr Cerar and Norlén, the Speaker of the Parliament of the Kingdom of Sweden, expressed their satisfaction with excellent relations between the two countries, which share similar positions on many issues, going from the rule of law to human rights and effective multilateralism. They underlined their interest in comprehensively strengthening cooperation between the countries, both at the bilateral level and within the European Union. Sweden is Slovenia's most important Nordic partner in bilateral trade, which last year amounted to EUR 545 million. Moreover, Sweden is one of Slovenia's major investors.
In the discussion about the future of the European Union, both the interlocutors agreed on the importance of enhancing the EU, who should guarantee not only external and internal security, but also economic and social security, while protecting common European values. The interlocutors called for the continuation of the Western Balkans enlargement process and for further support to these countries' efforts in achieving reforms and progress.
Other topics included migration and protection of external borders. In this latter context, Minister Dr Cerar emphasized the issue of internal Schengen border control. He went on to highlight the importance of the implementation of international courts' judgements, including the implementation of the arbitration award on the border between Croatia and Slovenia.
During the visit, the speaker of the Swedish parliament was also received by the President of the Republic, Borut Pahor, and Prime Minister Marjan Šarec. Today, the eminent guest will participate in a round table discussion, organised by the National Assembly and entitled "The Challenges of the Rule of Law and Democracy in the EU".