Lieutenant General Robert Glavaš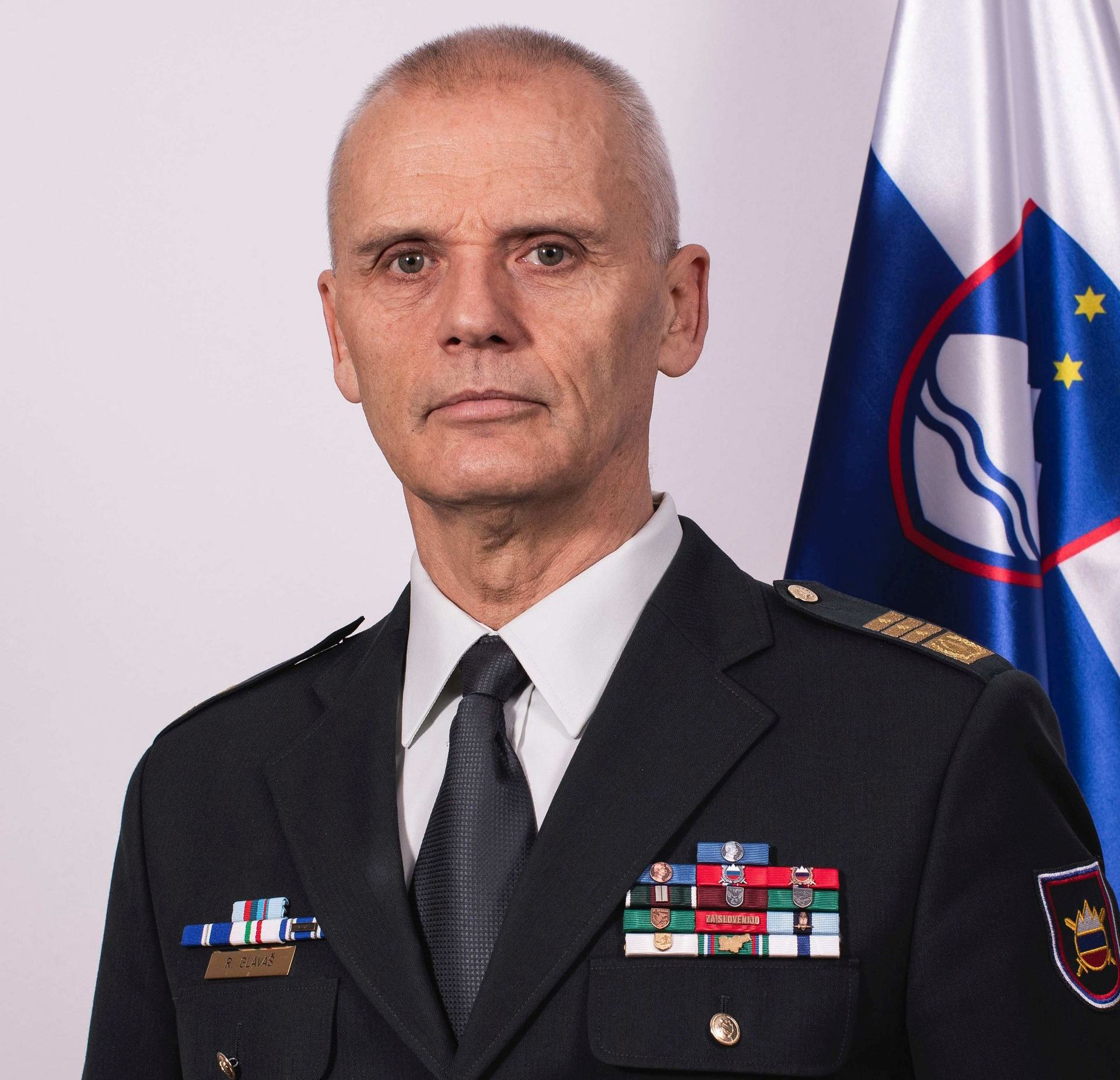 Biography
Lieutenant General Robert Glavaš was born in 1962. He joined the Slovenian Armed Forces in 1991. He completed specialisation studies in transport at the Faculty of Maritime Studies and Transport.
Current position: Chief of the General Staff of the Slovenian Armed Forces
Previous employment: Galvanska oprema, Podgrad
Assignments in the SAF:
School for Reserve Officers – Artillery, Zadar (1982/83)
1991 – 4th District Headquarters, Territorial Defence
Platoon Commander – 410th Training Centre, Postojna
Company Commander – 1/42nd Brigade, Ilirska Bistrica
Chief, S 3/7 – 1/42th Brigade, Ilirska Bistrica
Battallion Commander, 2/42nd Brigade, Ilirska Bistrica
Commander, 142nd Infantry Training Battalion, Ilirska Bistrica
Deputy Commander, 10th Motorised Battalion
Commander, 10th Motorised Battalion
Chief of Staff, 1st Brigade
Deputy Chief, J3, SAF General Staff
Commander, Joint Operations Centre
Chief J/G 3/5/7, SAF Force Command
Commander, Combat Training Centre
DCOS PLANS/TREX Branch Head, Joint Force Command Naples (3 years)
Deputy Commander, 1st Brigade
Commander, 1st Brigade
Deputy Chief of SAF General Staff
Deployments:
Deputy Chief of Staff, Support, Regional Command West, KFOR, Kosovo
Contingent Commander, ISAF, Afghanistan and Mentor to Commander, 207th Corps, Afghan National Army
Acquired experiences:
assignments at tactical, operational and strategic levels in Slovenia and abroad
chairing of different NATO exercise and training boards
co-author of NATO NRF and VJTF exercises (MTEP) and their implementation within the Rapid Action Plan(RAP)/Assurance Measures
member of NATO NRF (Land) Steering Committee
member of NATO Military Exercise and Training Steering Committee
President of the NATO CIMIC Centre of Excellence Steering Committee, Hague
commanding of units/branches in Slovenia and abroad
management of road maps for the development of EU forces (EU Rapid Response Force and EU Battle Groups)
preparation and management of EXCONs for NATO NRF and VJTF exercises
deployments in Kosovo and Afghanistan
Exercises:
Pivka '91
Drava '96
SKOK '04
Cooperative Associate '03 (CPX, Bulgaria)
Viking '05
Hawk Strike '06 (Certification Exercise, 10th Motorised Battalion, Varpalota)
Saber Juncture '12 – Deputy Head, EXCON
Naples Dark (JFCNP CPX) – Head, EXCON
Trident Juncture – Head of the JFCNP Validation Team
Naples Journey (JFCNP CPX) – Exercise Director
Trident Joust (JFCNP continuation exercise, deployment ROM, BLG) – Head, EXCON
Trident Jaguar (certification exercise for the German/Dutch Corps and NRDC ITA) – Exercise Director
Table Top Exercise – Exercise Director
Dacian Lynx – Certification Exercise MND SE Romania – Head, EXCEN.
Military Training:
Company Commander Course
Battalion Commander Course
Higher Staff Course
General Staff Course
NATO Staff Procedures Course
Combined Joint Task Force Headquarters course
NATO Peace Support Operation course
Combat Readiness Evaluation course
NATO SOF seminar: The New Strategic Context
Asymmetric Threats and Force Protection Seminar
NATO orientation course
Legal Aspects of Combating Terrorism Course
COIN course
C/IED course
NATO Exercise Planning Course
Medals and Decorations:
Silver Medal of General Maister
Bronze Medal of General Maister
Silver Medal of the Slovenian Armed Forces
Bronze Medal of the Slovenian Armed Forces
Peace Keeping KFOR Medal
Non-Article Five ISAF Medal
Bronze Plaque of the Slovenian Armed Forces
Medal of the 1st Brigade, 2nd Order
Silver Plaque of the 10th Motorised Battalion
European Union Presidency Medal
Italian Medal for Cooperation
Italian Decoration of Honor of the Joint Staff of Defence
Lieutenant General Glavaš and his family live in Ilirska Bistrica.