State Secretary attends the 3rd Danube Security Conference
State Secretary Helga Dobrin attended the 3rd Danube Security Conference in Brussels. The conference focused on strengthening police cooperation in the Danube region in the areas of illegal migration, smuggling and trafficking in human beings, protection of critical infrastructure and the consequences of the war in Ukraine.
Slovenia currently holds the Presidency of the EU Strategy for the Danube Region (from 1 November 2022 to 31 October 2023). According to State Secretary Dobrin, Slovenia's Presidency comes at a challenging time – when the region is recovering from the pandemic and in the midst of military aggression against Ukraine. The focus of our Presidency is on the current challenges in the region: "The Western Balkans are under constant migratory pressure. In Slovenia, we are seeing new trends in irregular migration. In particular, the structure of migrants has changed (an increase in Moroccan and Russian nationals) and the methods of illegal entry into the European Union have changed (international buses and trains). Organised criminal smuggling networks are adapting rapidly to these new trends." Unfortunately, we note that irregular migration and trafficking in human beings are closely linked to organised crime. Strengthened police cooperation and up-to-date information exchange are essential to better tackle the latter, said Ms Dobrin.
On this occasion, the State Secretary announced the 11th Informal Meeting of Ministers of the Interior of the Brdo Process, to be held in Portorož in early April 2023. The meeting will discuss current challenges in the area of internal security and migration, in particular strengthening cooperation in the fight against migrant smuggling.
Background
The 3rd Danube Security Conference was organised by the Bavarian Ministry of the Interior on 23 and 24 March 2023. In addition to the member states of the EU Strategy for the Danube Region (EUSDR), the conference brought together the European Commission, the European Border and Coast Guard Agency (Frontex), Interpol, Europol and the Southeast European Law Enforcement Centre (SELEC).
The EUSDR involves nine EU member states (Austria, Bulgaria, Croatia, the Czech Republic, Germany (Baden-Wurttemberg and Bavaria), Hungary, Slovakia, Slovenia and Romania), as well as Bosnia and Herzegovina, Moldova, Montenegro, Serbia and Ukraine (Odessa Province, Ivano-Frankivsk Province, Chernivtsi Province and Transcarpathian Province).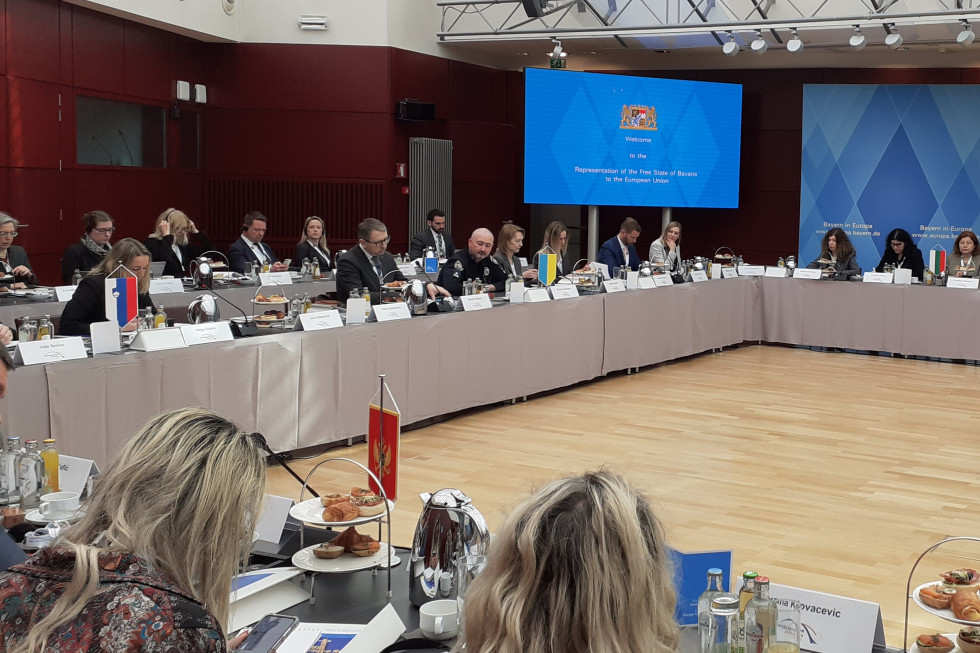 3rd Danube Security Conference was organized by the Bavarian Ministry of the Interior.
Delegation of the Slovenian Ministry of the Interior