State Secretary Štucin attending Assembly of States Parties to the Rome Statute session in The Hague
Ministry of Foreign Affairs
State Secretary Marko Štucin attended the 21st session of the Assembly of States Parties to the Rome Statute of the International Criminal Court and participated in the general discussion. Alongside the Assembly session, he engaged in numerous bilateral dialogues.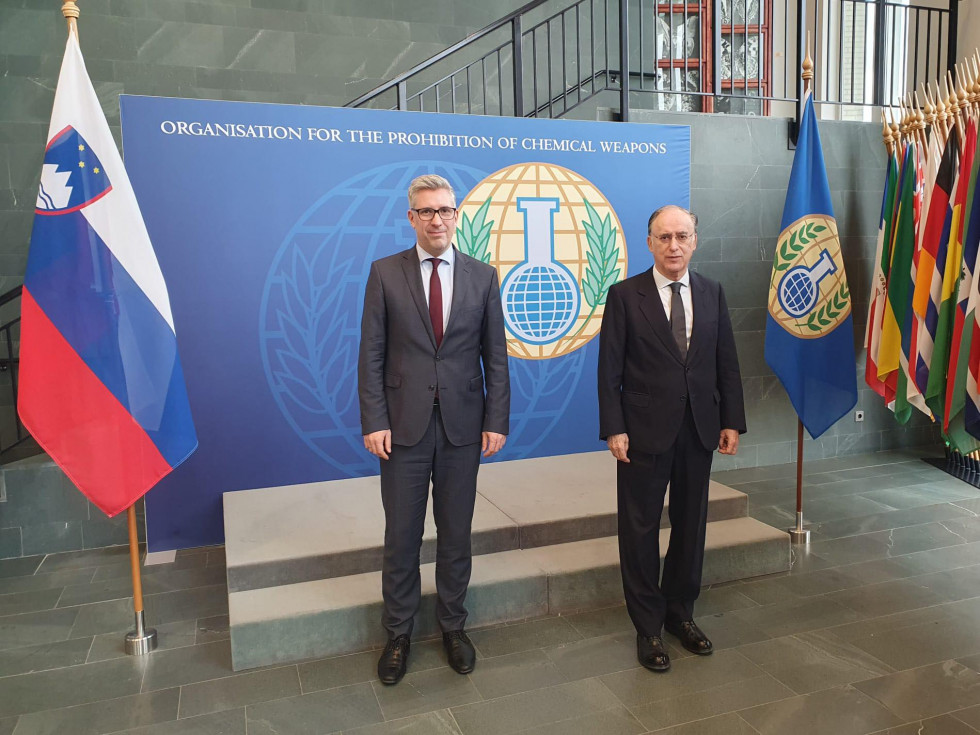 State Secretary Štucin attending the session of the Assembly of States Parties to the Rome Statute in The Hague
State Secretary Štucin with Beti Hohler, nominee for ICC judge
Addressing the general debate, State Secretary Štucin expressed Slovenia's support for the ICC activity and the efforts of the international community to eliminate impunity for international atrocities. He pointed to the need for full cooperation between States Parties and the Court, encouragement of the universality of the Rome Statute, and the provision of sufficient funds for the ICC budget to allow for smooth and efficient work. He invited the States to join the initiative on a multilateral treaty for mutual legal assistance and extradition for prosecution of the crime of genocide, crimes against humanity, and war crimes before the international courts (MLA initiative) and to participate at the international conference for ratification of the convention which will be held in Ljubljana in May 2023. The State Secretary also announced Beti Hohler's nomination for the position of ICC judge in the 2023 election.
On the margins of the Assembly session, State Secretary Štucin met with the Assembly President, Silvia Fernández de Gurmendi, the Court President, Piotr Hofmański, the Prosecutor, Karim A. A. Khan KC, and the Registrar, Peter Lewis. They discussed current challenges of the ICC, including the need to provide sufficient funds for smooth operation of the Court, support for cooperation between States and the Court, and the universality of the Rome Statute. The State Secretary went on to express Slovenia's unwavering support for the ICC's role in combating impunity and providing justice for victims of atrocities.
He also attended the accompanying event where he explained how the MLA initiative will strengthen the fight against impunity for international crimes and invited the participants to the diplomatic conference for the ratification of the convention, which will be held in Ljubljana in May 2023.
The State Secretary met with President of the Kosovo Specialist Chambers, Ekaterina Trendafilova, the Registrar, Fidelma Donlon, and the Acting Specialist Prosecutor, Alex Whiting.
Concluding his visit to the Netherlands, State Secretary held a discussion with the Director-General of the Organisation for the Prohibition of Chemical Weapons (OPCW). They talked about the challenges facing the Organisation, the use of chemical weapons in Syria and the imminent opening of OPCW's Centre for Chemistry and Technology, ChemTech. State Secretary Štucin gave assurances of Slovenia's ongoing support for the Organisation's work.