At the EU Foreign Affairs Council, Minister Fajon supports the fight against impunity for international crimes in Ukraine
Ministry of Foreign Affairs
In Luxembourg, Minister of Foreign Affairs Tanja Fajon attended the regular meeting of the Foreign Affairs Council of the European Union, chaired by High Representative of the Union for Foreign Affairs and Security Policy, Josep Borrell. The main topics on the agenda were the Russian aggression against Ukraine and relations with China.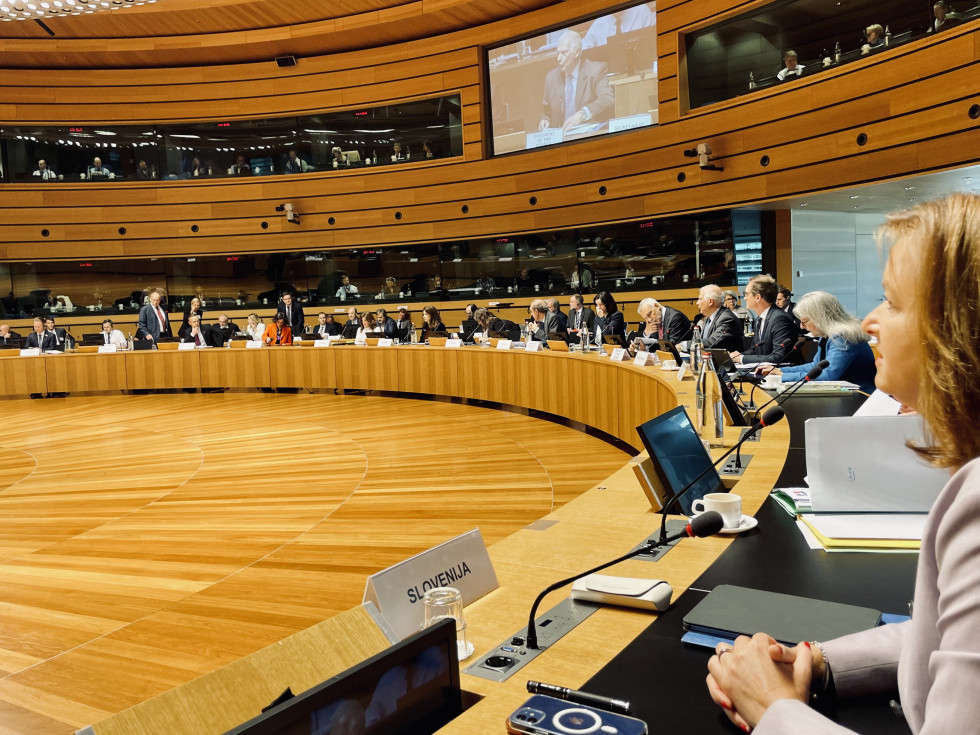 Minister Fajon with Swedish Foreign Minister Linde
Minister Fajon with Danish Foreign Minister Kofod
Minister Fajon's statement before the FAC meeting
At the beginning of the meeting, Minister Fajon noted her satisfaction with the European Commission's recommendation to grant Bosnia and Herzegovina candidate status for accession to the European Union. "I am pleased that Slovenia, through a successful diplomatic campaign, has managed to convince the European leaders that the Western Balkan countries should not be overlooked. Candidate status for Bosnia and Herzegovina sends an important message to all countries in the region, encouraging them to support security and stability and to speed up reforms," said the Minister. She also expressed the hope that European leaders will confirm candidate status for Bosnia and Herzegovina when they meet in December this year.
Discussing the broader aspects of the Russian aggression against Ukraine, including the illegal referendums on the annexation of occupied Ukrainian territories by the Russian Federation and the escalation of the war on the ground, the foreign ministers expressed their unwavering support for Ukraine. "Slovenia supports a strong and united EU response to the illegal annexations of occupied territories and condemns in the strongest terms the attacks against Ukraine, in particular against the civilian population, and the destruction of civilian infrastructure," said Minister Fajon. She also supported the fight against impunity for the most serious international crimes in Ukraine and stressed that Slovenia would continue to help Ukraine, its main aid recipient.
The ministers underlined the importance of the Union's cooperation and unity in the multifaceted approach towards China, while taking into account the preservation of the international legal order, strengthening the EU's resilience and reducing its dependence and vulnerability. Minister Fajon voiced support for the continuation of the EU's policy towards China. "We must strive to achieve reciprocal, balanced and fair economic relations between the EU and China, while ensuring that the EU's interests in critical infrastructure and technology are protected. We also need to strengthen the resilience of critical supply chains and the diversification of imports of strategic goods," she said.
The foreign ministers also discussed the current global situation, including human rights violations in Iran, the United Nations Climate Change Conference (COP27), the situation in Ethiopia, Burkina Faso and Lebanon, and the Global Gateway initiative.