FAC on the importance of strengthening the Union's strategic partnerships
Ministry of Foreign Affairs
State Secretary Marko Štucin attended the regular meeting of the Foreign Affairs Council of the European Union, chaired by High Representative of the Union for Foreign Affairs and Security Policy Josep Borrell. The main topics of discussion included the Russian aggression against Ukraine, digital diplomacy, and the relations between the EU and Latin America and the Caribbean.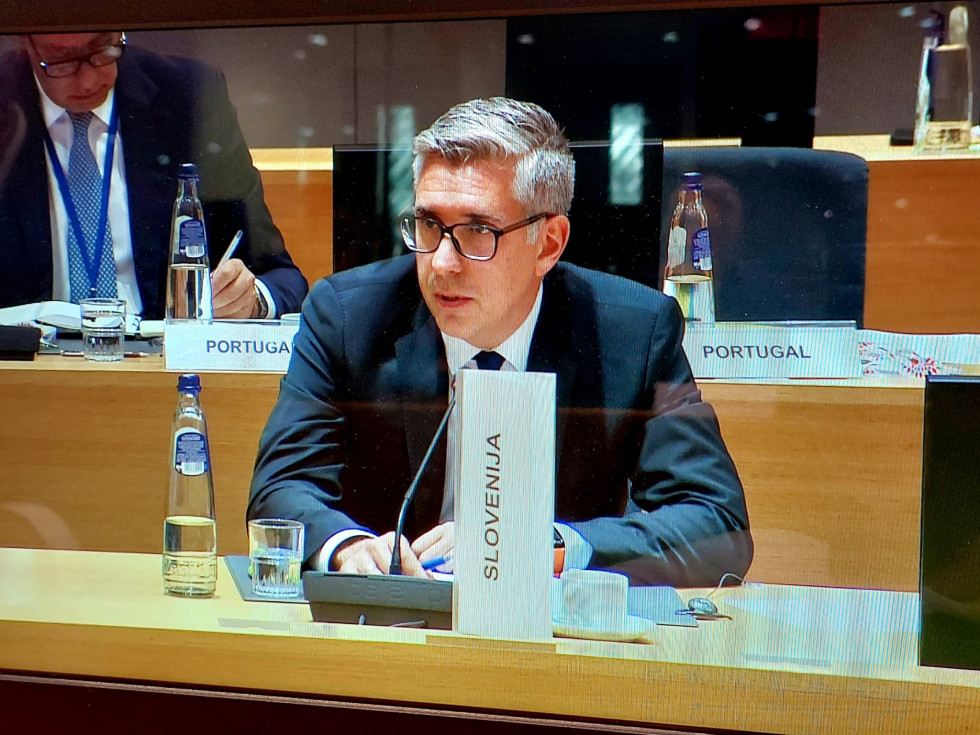 State Secretary Štucin talking to Spanish Foreign Minister José Manuel Albares
State Secretary Štucin with Minister of State for Europe and Climate Anna Lührmann
State Secretary Štucin and Portuguese Foreign Minister João Gomes Cravinho, standing and talking
Foreign Affairs Council on the importance of strengthening the Union's strategic partnerships
Ukrainian Foreign Minister Dmytro Kuleba joined the discussion about the Russian aggression, outlining the challenges and situation on the ground. The ministers stressed the need to continue providing comprehensive support for Ukraine and adopted a political agreement on additional assistance with military equipment from the European Peace Facility, whereby the global nature of the Facility has to be taken into account. They went on to discuss a new package of EU restrictive measures against the Russian Federation and accountability for war crimes. "Slovenia supports the EU's continued assistance to Ukraine, including to ensure the operation of critical infrastructure and institutions, and all efforts toward post-war reconstruction," said State Secretary Štucin.
In the grip of geopolitical shifts, the EU needs to strengthen its strategic partnerships, including that with Latin America and the Caribbean. The region is an important partner in advocating a rules-based international order and, at a time of war in Europe, also for global food security. State Secretary Štucin stressed that "it is vital to strengthen political dialogue, trade relations and sectoral cooperation, including the digital agenda".
The ministers confirmed the EU's Strategic Roadmap as a basis for reviving dialogue and for planning a summit with the Community of Latin American and Caribbean States (CELAC) in 2023 and for an EU-CELAC ministerial meeting in October 2022. The plan sets out a commitment to strengthen the political alliance with the region and cooperate in priority areas such as the green and digital transition, trade, human development, security and the fight against crime.
New technologies have a strong impact on the geopolitical balance of power and are at the core of strategic competition. The EU is the central player promoting ethical international standards in service of citizens. State Secretary Štucin stressed that "proactive EU digital diplomacy is essential to promote the European model of digital governance externally and also to promote European interests and values. Slovenia is actively engaged in the development of standards for the use of artificial intelligence and also encourages digital partnerships with like-minded partners, including continued dialogue with other partners".
On behalf of the Central 5 countries (Austria, Czech Republic, Hungary, Slovakia and Slovenia), State Secretary Štucin presented to the ministers a joint appeal to grant candidate status to Bosnia and Herzegovina before the end of 2022.