Slovenian Diplomacy Day dedicated to the first female ambassador of Slovenia to Austria
Ministry of Foreign Affairs
The Ministry of Foreign Affairs marked Slovenian Diplomacy Day, which is celebrated every year on 22 May, the anniversary of Slovenia's admission to the United Nations.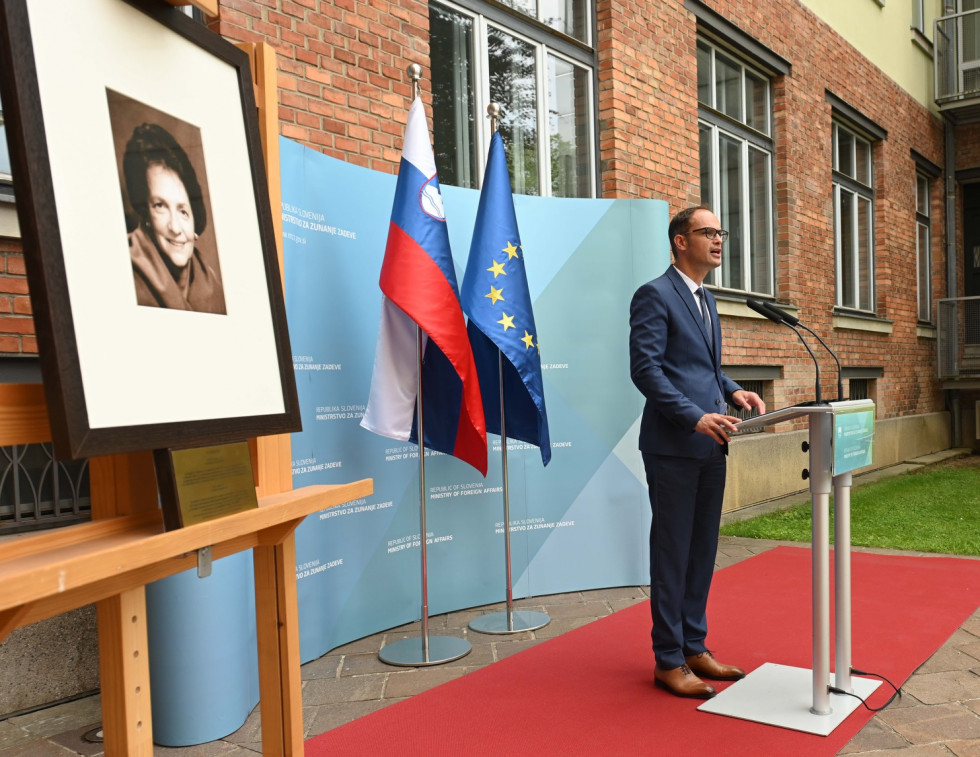 Address by Minister Dr Anže Logar on Slovenian Diplomacy Day
Address by the first prime minister of a democratically elected government of Slovenia Lojze Peterle
Foreign Minister Dr Anže Logar, Lojze Peterle, Dr Dimitrij Rupel and diplomats
"Slovenian Diplomacy Day has always been a welcome opportunity to assess the work of diplomacy. We have reached a new level of quality relations with our neighbouring countries, focusing on what brings us together.
Slovenian foreign policy is in excellent shape, has good neighbourly relations and has been strengthened in key areas: in the past two years, Slovenia has become more European, more Central European, more Mediterranean, more transatlantic, more open to the world," underscored Minister Anže Logar.
For years, the celebration has been an opportunity for the ministry to pay tribute to diplomats who were Slovenians, Europeans and cosmopolitans at heart. We recall all those great personalities who recognised the signs of the time in watershed moments in history, especially 30 years ago, and opted for Slovenia, a decision that was never opportune nor without its risks. One such personality was Dr Katja Boh, the first ambassador of the Republic of Slovenia to the Republic of Austria. As a staunch supporter of human rights and political pluralism, she entered politics in the 80s, and later held the post of minister for health in the first democratically elected Slovenian government led by then Prime Minister Lojze Peterle. She laid the grounds for high standards of courteousness and professional and personal integrity.
The prime minister of the first democratically elected government of Slovenia Lojze Peterle shared his memories of Dr Katja Boh in the second address of the ceremony: "She was endowed with an intellect of high calibre and broad horizons, and was an example of truthfulness and ethics," he explained, adding that it had been an honour to work with her. "I am convinced that she would praise the achievements of Slovenian diplomacy in the past two years," he concluded, congratulating Dr Logar and the Slovenian diplomats for a successful term.
In his speech, the minister thanked all the diplomats, officials and other technical staff of the ministry for their professionalism and hard work contributing to the overall objectives of Slovenian diplomacy. "I am convinced that despite our diverging views of the world we can still be united when it comes to assessing what kind of international environment is conducive to the implementation of our basic interests: security and prosperity of our citizens. Today, in the current international context, such plurality within and unity without is even more important than 30 years ago," concluded the minister. According to him, the Slovenia of today also reflects the work of Slovenian diplomats like Dr Katja Boh. He thanked all members of the Slovenian diplomatic service who put Slovenia first.