Minister Logar at a Central 5 meeting of foreign ministers on Ukraine and EU resilience
Ministry of Foreign Affairs
Foreign Minister Dr Anže Logar attended a meeting of the Central 5 group bringing together the foreign ministers of Austria, the Czech Republic, Hungary, Slovakia and Slovenia. The main topics on the agenda were the current situation in Ukraine and building EU resilience.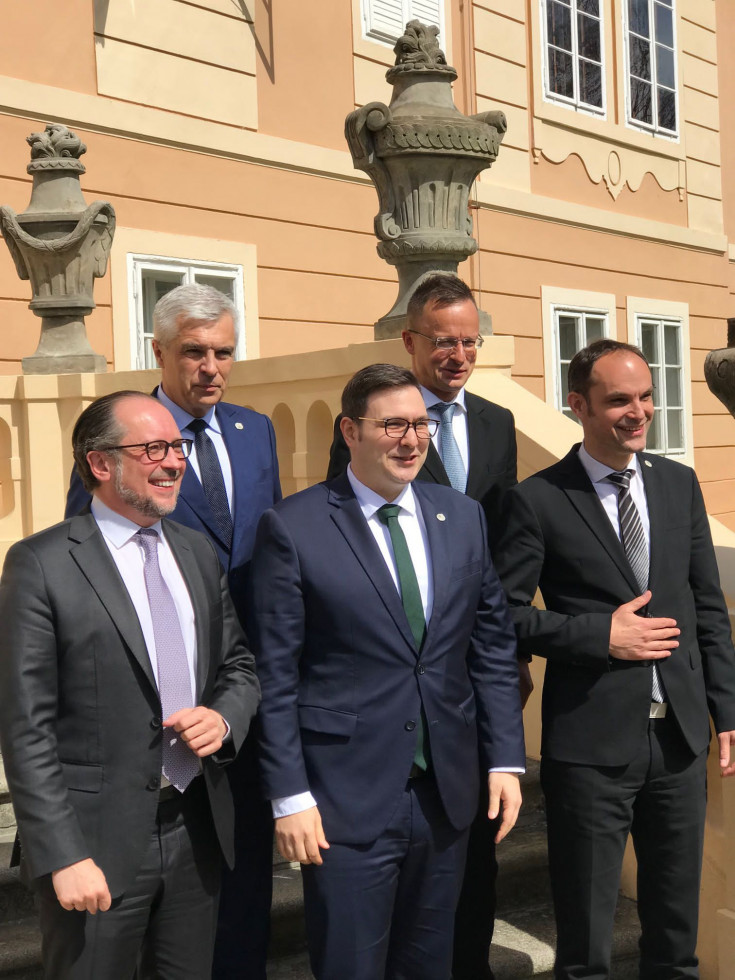 Meeting of C5 foreign ministers
Minister Anže Logar with Austrian FM Alexander Schallenberg
Minister Anže Logar with the host Jan Lipavský
C5 foreign ministers at a press conference
Opening of the exhibition on the 30th anniversary of the establishment of diplomatic relations between Slovenia and the Czech Republic
Minister Logar addressed the audience at the exhibition opening
Cooperation between the Central 5 countries started in response to the need to deal with the pandemic, and has since been strengthened in light of the new security crisis.
The foreign ministers underlined that regional cooperation was vital in managing new security challenges caused by the Russian aggression against Ukraine. Their talks focused on the Russian military operation in Ukraine and the humanitarian aid collected at the donor conference on 9 April 2022. At the moment, the eyes of the world are on the mass killings of civilians in the Ukrainian cities from which the Russian army has retreated. Following the visit of the prime ministers of Slovenia, Poland and the Czech Republic to Kyiv in mid-March, high-level visits continue with the aim to ensure the European perspective for Ukraine with a concrete timeline leading to its EU membership, this being the best possible response to the current security and political challenges. The foreign ministers also discussed the Western Balkans, Moldova and Georgia, which, too, need a clear EU perspective.
At the C5 meeting, for a second time hosted by the Czech Republic, Minister Logar outlined the achievements of the Slovenian Presidency of the Council of the EU. He went on to stress that the Presidency was marked by the dynamic developments in Europe and beyond – the uncertain epidemiological situation, crisis on the Belarus border, situation in Afghanistan, rising fuel prices and natural disasters, among others. However, the plan of the six-month Presidency was for the most part successfully implemented. As the country holding the Council Presidency, Slovenia strived to better prepare the EU for possible future crises, which dictated optimal cooperation between the EU institutions and member states.

Czech Foreign Minister Jan Lipavský briefed his colleagues on the preparations for the upcoming Czech Presidency of the Council of the EU in the second half of this year, which will undoubtedly be marked by the war in Ukraine. And in this regard, the issue of EU resilience will be ever more pressing, particularly resilience in the spheres of (dis)information, energy security and supply in the widest sense – of food, agricultural fertilisers, electronic components and so on. Minister Logar said that Slovenia was happy that the Czech Presidency would direct attention to the South-Eastern European region and build upon the achievements of the Slovenian Presidency.
On the sidelines of the C5 meeting, Minister Logar opened the exhibition on the 30th anniversary of the establishment of diplomatic relations between the Republic of Slovenia and the Czech Republic. The then Czechoslovakia recognised the independent state of Slovenia on 5 February 1992, but the roots of the diverse relations between the two nations can be traced much further back in history as the title of the exhibition implies: "Slovenia and the Czech Republic – partners in Central Europe". The exhibition chronicles the relations between Slovenians and Czechs through various periods – from the Middle Ages, the golden age of mutual history under the Austro-Hungarian rule in the 19th century, the common tragic fate of both nations during World War I, intensive cooperation in the inter-war period and the dissolution of the previously common states after World War II to the friendly ties between the democratic Slovenia and the Czech Republic established over the last three decades. In his address, Minister Logar said: "Central European countries are marked by their political stability, security, ambitious economic policy and shared cultural characteristics, which affirms the importance of their political and economic roles to Slovenia. Its status as a Central European country provides Slovenia with many opportunities, which it is actively seizing to strengthen political cooperation with all other Central European countries, particularly with Austria, the Czech Republic, Hungary and Poland."