Minister Logar and Latvian Minister Rinkçvičs on strengthening relations between the two countries and EU challenges
Ministry of Foreign Affairs
Today, Minister of Foreign Affairs, Anže Logar, is hosting Minister of Foreign Affairs of Latvia, Edgars Rinkçvičs. Their discussions were aimed at enhancing cooperation between Slovenia and Latvia within the framework of the European Union and NATO.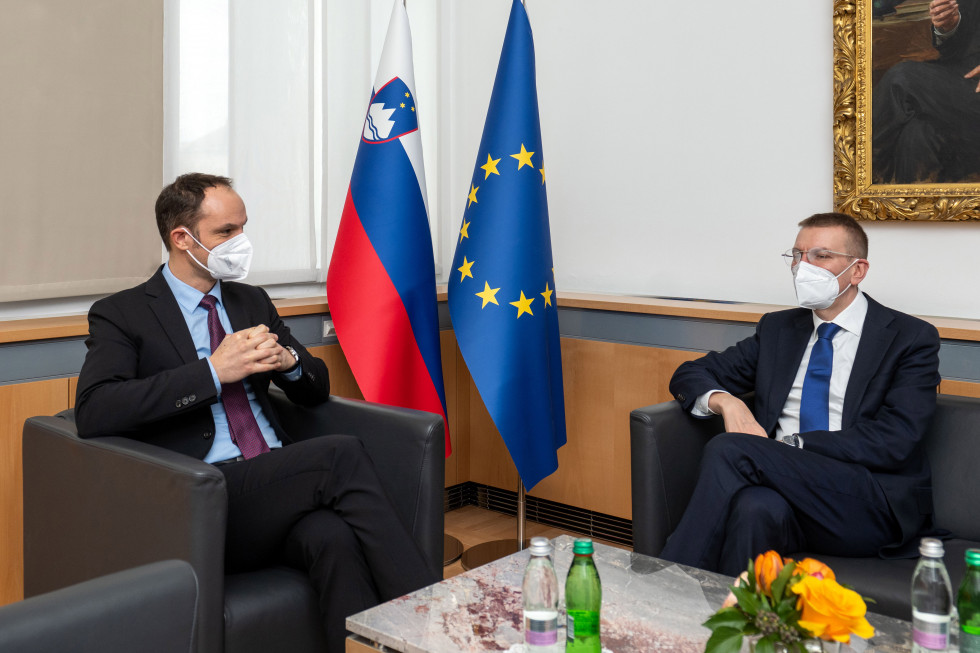 Minister Anže Logar hosted Latvian Minister of Foreign Affairs Edgars Rinkēvičs on an official visit
This is the first visit of a Latvian foreign minister to Slovenia
The Ministers look forward to the opening of the Slovenian Embassy in Riga
They also discussed current international topics
Slovenia and Latvia maintain a regular political dialogue and share similar views on various international issues. The two countries successfully cooperate both within the European Union and NATO and other international fora. The opening of the diplomatic representation of the Republic of Slovenia in Latvia will offer an opportunity to strengthen diverse and fruitful cooperation between the two countries: "This opens the door to enhanced cooperation in various fields, especially in tourism," stressed Minister Logar.
The Three Seas Initiative is also an important regional format for both economic cooperation in Central Europe and for deepening transatlantic collaboration. Minister Logar expressed his pleasure that Latvia will host the Riga Summit and Business Forum in June, which will also be important in terms of strengthening the European Union's strategic autonomy.
The Ministers devoted the central part of their talks to the situation at the Russian-Ukrainian border. Minister Logar reiterated Slovenia's position on supporting Ukraine's territorial sovereignty and independence. "The Minister and I agreed that we should continue to work — both bilaterally and multilaterally — towards a diplomatic solution and de-escalation of the situation. We want the EU to respond as a whole to security threats coming from the eastern Ukrainian border," underlined Minister Logar at the press conference.
The Ministers also discussed the situation in the Western Balkans. Minister Logar stressed that Slovenia is paying great attention to the region and supports the enlargement of the EU to the Western Balkans if the regional countries manage to implement the necessary reforms and fulfil all the criteria. Tackling COVID-19 and EU action was also an important topic on the Ministers' agenda.
Minister Logar briefed his counterpart on Slovenia's candidacy for a non-permanent seat of the United Nations Security Council for the 2024–2025 mandate.
Minister Rinkçvičs thanked Slovenia for the participation of Slovenian Armed Forces' members in the framework of the NATO mission "Enhanced Forward Presence" based in Ādaži, Latvia. As Minister Logar added, participation in this mission represents, among other things, an important contribution to the functioning of NATO and to international peace.