State Secretary Dr Raščan at a high-level event on the link between displacement and water resources
State Secretary Dr Stanislav Raščan attended a high-level event on "Water and Displacement" via audio-video conference.
He asserted that water is at the heart of many global, regional and local challenges ranging from health to the effects of climate change. This is also one of the reasons why Slovenia chose water as a key priority of its Council Presidency in development cooperation.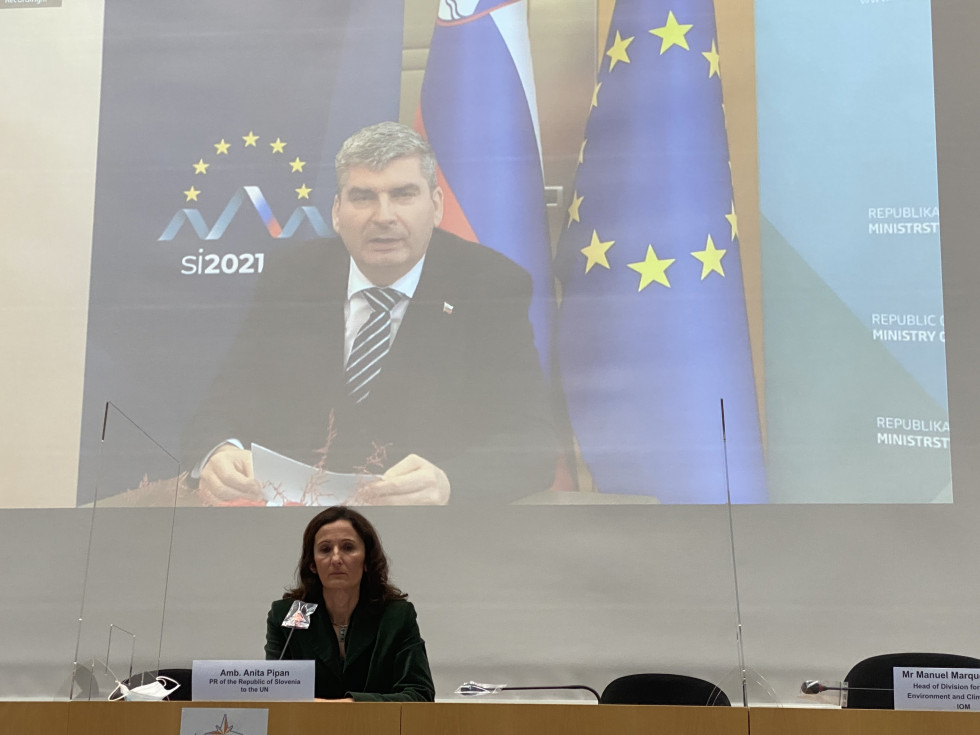 State Secretary Raščan during his address via audio-video conference
Participants at the conference via audio-video conference
Factors such as ecosystem degradation, water scarcity, water pollution and the changing climate play an important role in human displacement. The interplay between the factors of climate change, water risks and weak institutions with a limited coping and managing ability needs to be addressed using locally oriented approaches due to different political and other backgrounds.
State Secretary Raščan stressed that the effectiveness of addressing water-related displacement depends on a comprehensive approach to measures used to address the challenges. The Council's conclusions on water in the EU's external action were also adopted to this end on 19 November 2021.

Water is also one of the priorities of Slovenia's foreign policy in connection with sustainable development, the human right to a safe and healthy living environment, and access to clean drinking water and sanitation. Slovenia, which has been a member of the Group of Friends on Water and Peace for many years, will host the tenth session of the Water Convention in 2024 and will assume its presidency in 2027.

The event was organised by the World Meteorological Organization, the Delegation of the European Union to the United Nations in Geneva and the Permanent Mission of the Republic of Slovenia to the Office of the United Nations in Geneva. European Commissioner for Crisis Management Janez Lenarčič and Secretary-General of the World Meteorological Organization Petteri Taalas were also among the attendees.