EU agriculture ministers for strengthening the dialogue between urban and rural areas
EU agriculture ministers discussed the role of rural areas in society and rural challenges. They characterised rural areas as spaces where different activities coexist and complement one another. They advocated a new definition of the role of rural areas, which have to be supported in all their diversity.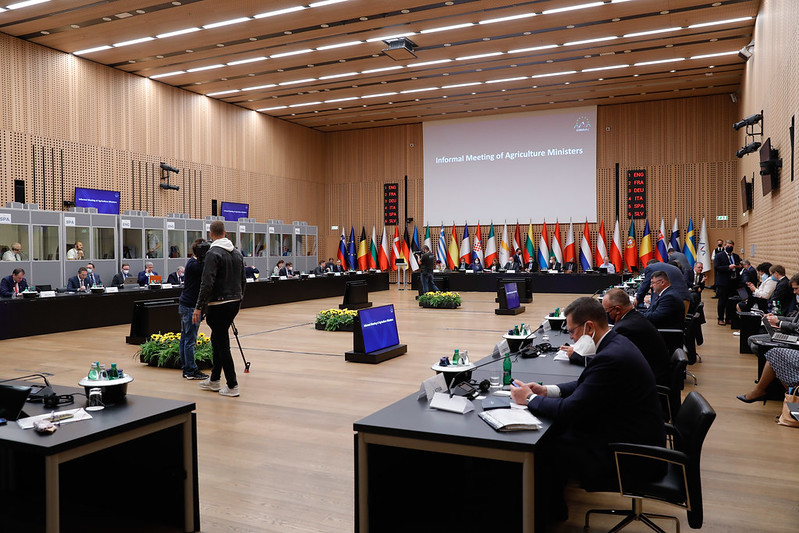 Commissioner Janusz Wojciechowski an minister dr. Jože Podgoršek
Family photo in Brdo pri Kranju
EU agriculture ministers held an informal meeting at which they discussed the often neglected but important issues for the survival and further development of rural areas and agriculture, i.e. the strengthening of the dialogue between the urban and rural areas. In rural areas, there is a clash of different interests and value systems, some of which can coexist, while others generate tensions. Particularly challenging is the integration of agriculture and its practices into the new rural settlement structure, as well as into the daily life of rural communities.
In their discussion, the ministers focused on finding answers for how EU member states see the coexistence of cities and rural areas, how they address the challenges of coexistence and prevent conflicts and what is the role of the common agricultural policy in this. They agreed that rural areas are a multifunctional space where different activities not only coexist and complement one another but also compete. The traditional way of coexisting in rural areas is facing major challenges. Therefore, it is necessary to find a new way to redefine the social role of rural areas, while the diversity and quality of these areas should be supported.
Slovenian Minister Jože Podgoršek said the debate was an important contribution by the Presidency to the future of rural areas, which will be dictated, among other things, by the recently published Long-term vision for rural areas towards 2040. "Strengthening rural areas and ensuring dialogue between urban and rural environments are key to the long-term and balanced development of the European continent. I believe that today's debate has added a piece to the mosaic of possible opportunities for the empowerment of rural areas and a more balanced development between rural and urban areas, particularly in decision-making processes. In this way, rural areas can become more attractive and functional for all generations of the population."
Agricultural ministers want to give rural areas a greater say in shaping the future of Europe, as they produce our food, preserve our heritage and landscapes. The Long-term vision for rural areas up to 2040, which was presented today by Agriculture Commissioner Janusz Wojciechowski, will play a key part in this process. Its aim is to strengthen and connect rural areas, making them more resilient and successful. "There is a growing perception amongst citizens that the role and importance of rural areas is underappreciated. This was the clear message we received in the public consultations, surveys and analyses conducted in preparation for the Long-term Vision for Rural Areas. An active and continuous contribution from all relevant policies is essential to realise this broad Vision."
On the margins of the informal two-day meeting of agriculture ministers, a meeting of the Special Committee on Agriculture took place. Yesterday, the ministers also saw examples of good practice in the integration of urban and rural areas. In the morning, they visited the Grm Novo mesto – Centre of Biotechnics and Tourism, where they were shown how the process of education of young farmers in Slovenia works. The visit to the centre was followed by a tour of Evrosad, Slovenia's leading fruit producing company.