Minister Logar and Austrian Foreign Minister Schallenberg on close cooperation
Minister Anže Logar today hosted a working visit by Federal Minister for European and International Affairs of the Republic of Austria Alexander Schallenberg. The counterparts agreed that Slovenia and Austria hold a regular partnership dialogue on all bilateral, European, and international issues. The Austrian minister was accompanied by Governor of Styria Hermann Schützenhöfer.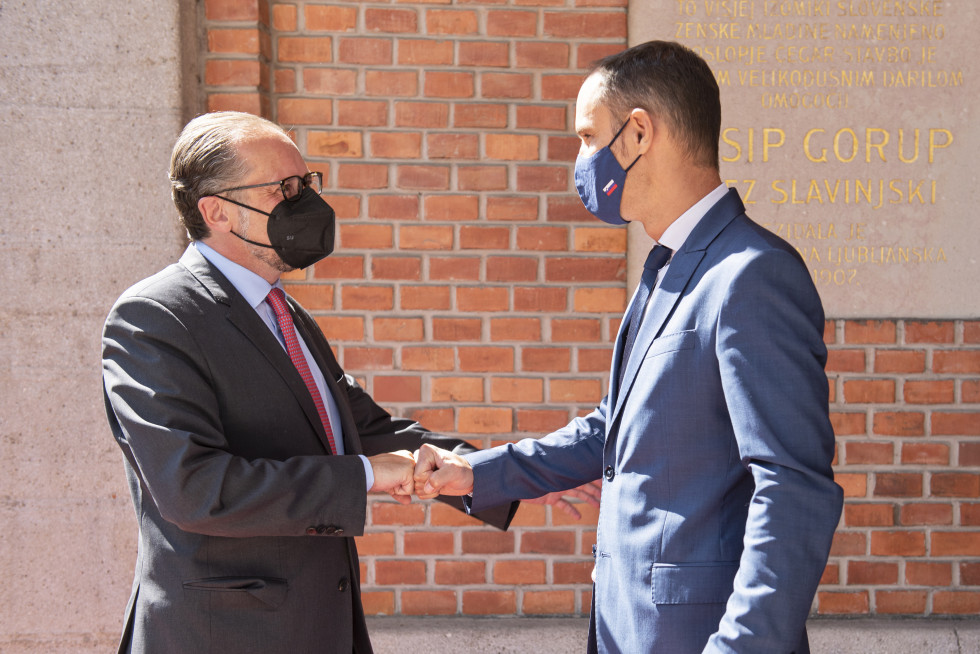 Minister Logar with Austrian Foreign Minister Schallenberg and Governor Schützenhöfer
Minister Logar with Austrian Foreign Minister Schallenberg and Governor Schützenhöfer
The delegations during talks
Minister Logar with Austrian Foreign Minister Schallenberg at the press conference
During their talks, the two foreign ministers touched on the subject of the Slovenian national community in Austria. Minister Logar stated that Slovenia can be satisfied with the progress achieved over the past year, both as regards recognising the important role the Slovenian community plays in Austrian society and improving its material situation following increased funds made available for the Slovenian minority. Minister Logar voiced the Slovenian expectation the federal and provincial authorities will take further steps towards the long-term and systemic regulation of minority rights, especially in Styria.
Cooperation with both neighbouring provinces, Styria and Carinthia, is extremely important for Slovenia, in particular in tourism, culture and education, disaster control, and within the EU cross-border cooperation programmes. The two joint committees chaired by the Slovenian foreign minister and the two provincial governors constitute the main cooperation framework. Minister Logar and Governor Schützenhöfer agreed to hold the next meeting of the Joint Committee Slovenia-Styria at the earliest possible opportunity.
The two foreign ministers went on to discuss nuclear energy, whereby Minister Logar reiterated the importance of transparent dialogue regarding the extension of the operation period of the Krško Nuclear Power Plant beyond 2023 and the future use of nuclear power in Slovenia within the already established bilateral and multilateral formats at expert level.
Minister Logar outlined to his Austrian colleague activities undertaken during the Slovenian EU Council Presidency, focusing on the preparatory work for the informal meeting of foreign ministers to be held at the beginning of September in Brdo pri Kranju. As regards the situation in Afghanistan, which will also feature on the meeting agenda, the two ministers were in full agreement as to the need for further coordination between the EU member states and institutions in dealing with the impact of political shifts in the country.
Foreign ministers Logar and Schallenberg also took time to discuss measures to curtail the COVID-19 pandemic, and exchanged information on the envisaged country-specific measures and border crossing requirements.