Consultations between State Secretary Dovžan and Irish Minister of State for European Affairs Byrne
Ministry of Foreign Affairs
State Secretary Gašper Dovžan held consultations with Thomas Byrne, Minister of State for European Affairs at the Department of Foreign Affairs and Trade of Ireland, ahead of the Slovenian EU Council Presidency.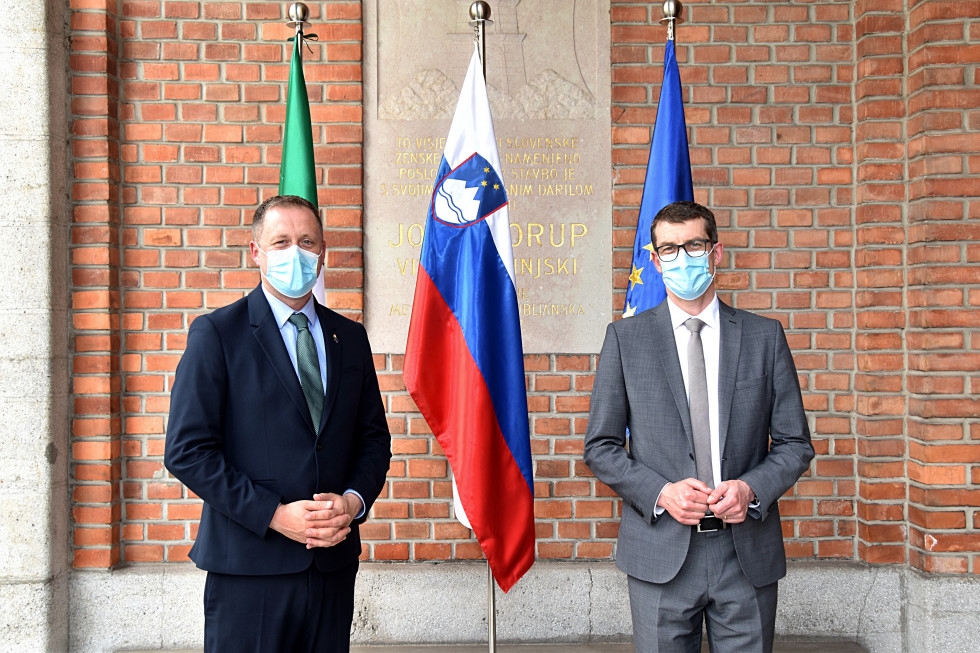 Talks between the Irish and Slovenian delegations
Among the main topics were the Slovenian Presidency of the Council of the EU in the second half of 2021 along with activities aimed at strengthening cooperation at the EU level and enhancing bilateral relations.

They agreed that Slovenia and Ireland maintain positive and friendly relations as well as regular and constructive cooperation within the European Union and international forums, sharing many similar positions and views.

State Secretary Dovžan briefed Minister of State Byrne on the preparations and key priorities of the Slovenian EU Council Presidency, emphasising the EU's resilience and recovery, the Conference on the Future of Europe, the European way of life and the rule of law, and the European Union as a reliable global partner. He also stressed the importance of sustaining the progress made so far in the Union's enlargement process to the Western Balkans and strengthening transatlantic relations.

The Irish side endorsed the priorities of the Slovenian Presidency, expressing interest in, and readiness for, constructive cooperation on all key strategic issues.

The officials exchanged views on the implementation of the UK's EU Withdrawal Agreement and devoted particular attention to the Protocol on Ireland/Northern Ireland as well as the EU-UK Trade and Cooperation Agreement.