Minister Logar meets with foreign ministers of Austria, Czechia, Hungary and Slovakia in Bratislava
Minister of Foreign Affairs Anže Logar attended the meeting of the ministers of foreign affairs of the Central 5 (C5) countries, consisting of the foreign ministers of Austria, Czechia, Hungary, Slovakia and Slovenia.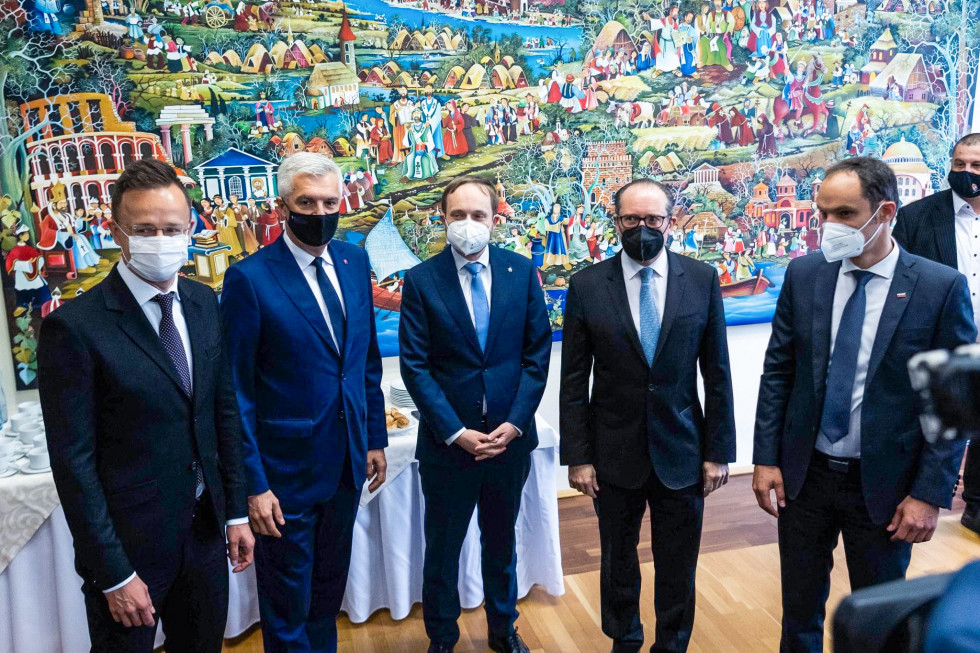 Minister Logar with his Czech and Austrian counterparts
Meeting of C5 ministers in Bratislava
Minister Logar and Ukrainian Foreign Minister Kuleba
C5 foreign ministers and Ukrainian Minister in Bratislava
Minister Logar at a press conference
C5 foreign ministers and Ukrainian Minister at a press conference in Bratislava
The ministers discussed the further easing of measures concerning the crossing of state borders, which had been introduced to curb the spread of the COVID-19 pandemic. They mainly focused on preparations for the summer tourist season and agreed that coordination and mutual information sharing on border crossing measures were essential in order to avoid further restrictions on the movement of people and the operation of businesses. In this regard, the ministers went on to debate the possibility of concluding bilateral or regional arrangements on border crossing and endorsed the adoption of the Digital Green Certificate.

At the meeting, Minister Logar presented the priorities of the Slovenian Presidency of the EU Council, which will take place in the second half of this year. He explained that Slovenia's main goal during the EU Presidency would be to contribute to reinforcing the Union's resilience to crises that could jeopardise the health and safety of the population. He stressed that Slovenia would continue its work for the EU economic revival with an emphasis on strengthening the bloc as well as on its digital and green transition. He also mentioned the Conference on the Future of Europe, which will mainly take place during the Slovenian EU Presidency. The Minister went on to present Slovenian foreign policy priorities, with a particular emphasis on the development of transatlantic relations and the Western Balkans. Minister Logar announced the visit of three C5 foreign ministers to Tirana and Skopje at the end of May, which is intended to give impetus to the region's EU perspective.

The ministers also discussed EU-Russia relations and called for the consistent implementation of the existing five principles of cooperation.

In the second part of the meeting, the ministers were joined by the Minister of Foreign Affairs of Ukraine, Dmytro Kuleba, who briefed them on the security situation in eastern Ukraine and the prospects for the peace process. The ministers welcomed the recent efforts of the Ukrainian and Russian sides to defuse tensions and agreed on the need to continue negotiations to achieve lasting peace.