Minister Hojs: We need to invest more effort at EU level to protect children from online sexual abuse
Minister of the Interior Aleš Hojs attended a virtual meeting of the EU Internet Forum, convened by the European Commission.
The Forum, which brings together the Internet industry, the European Commission, Member States and other actors such as Europol and the EU Counter-Terrorism Coordinator, discussed measures on containing the spread of terrorist and violent extremist content online. Additional challenges are the abuse of modern technologies for the purpose of terrorism and encryption, which makes it difficult to detect such content online in a timely and effective manner. The European Commission, together with Europol and Member States, organised a theoretical exercise last November testing the EU Crisis Protocol, in which Slovenia also participated. The aim of the protocol is to achieve a coordinated response to cross-border misuse of the Internet.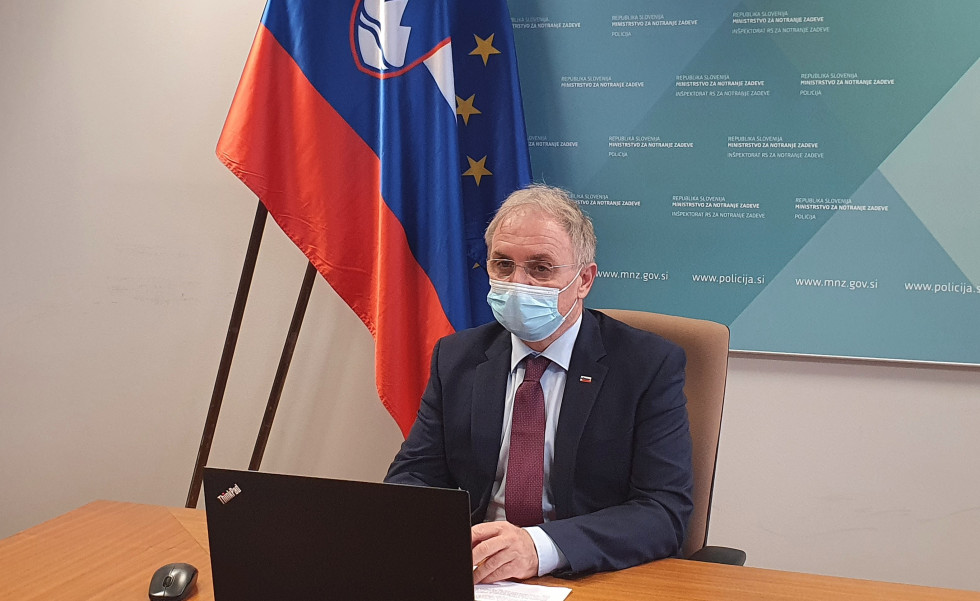 Speech by the Portuguese Interior Minister Cabrita
In the debate, the participants also touched upon the challenges in the fight against online child sexual abuse. The topic is particularly important for Slovenia, Germany and Portugal since they identified it as a priority during the Presidency of the EU Council in their 18-month trio programme. "This is one of the most heinous and serious forms of crime, and it is particularly worrying that the EU has the largest volume of child abuse images exchanged online," said Minister Aleš Hojs. This is also fuelled by the fact that the encryption of messages has increased, which poses a particular challenge for law enforcement authorities. "Therefore we need to invest even more effort at EU level to find appropriate solutions that would guarantee privacy of electronic communications, while, more importantly, ensuring the safety and protection of children from sexual abuse and exploitation online," stressed the Minister.