Minister Logar visiting the Holy See
Ministry of Foreign Affairs
Minister of Foreign Affairs of the Republic of Slovenia Anže Logar visited the Holy See, where he had the honour of attending an audience with Pope Francis together with members of the Slovenian delegation. On the 30th anniversary of the Plebiscite on Sovereignty and Independence, Slovenia gifted a Christmas tree to stand in St Peter's Square. By erecting the tree in the Vatican, Slovenia once again expresses gratitude to the Holy See for its unwavering support during the process of gaining independence.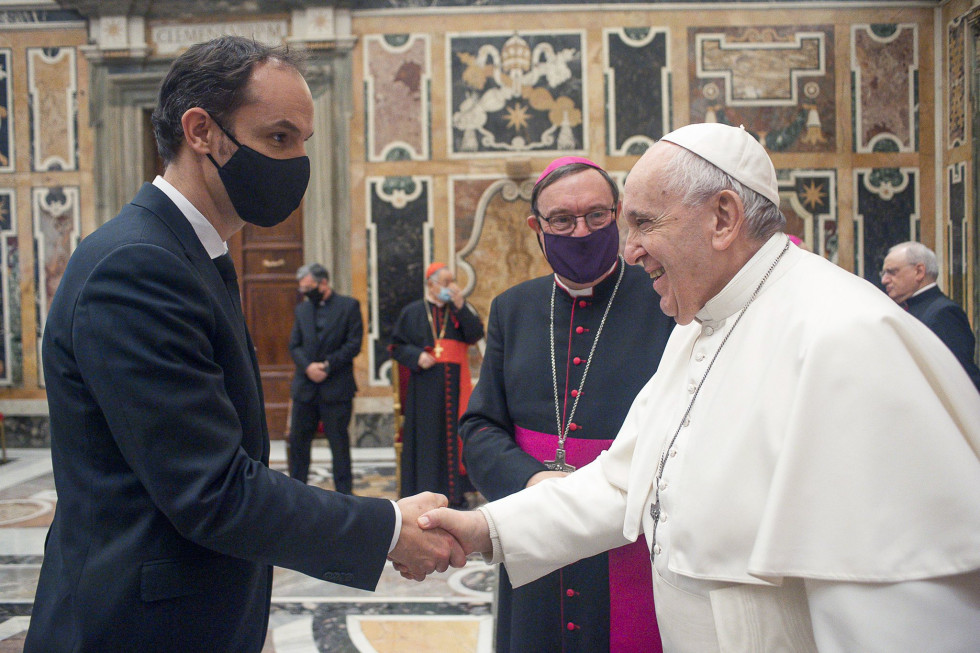 Audience with Pope Francis
Minister Logar at the reception hosted by Secretary for Relations with States, Archbishop Paul Richard Gallagher
Mass for the homeland in the Basilica
Minister Anže Logar before delivering a speech at the ceremony
Minister Anže Logar
Minister Logar was received by his host, Secretary for Relations with States, Archbishop Paul Richard Gallagher. They discussed the current state of affairs in the international community and exchanged views on the situation related to the spread of the novel coronavirus. During the talks, attention was also devoted to the future of the European Union, migration and the situation in the Western Balkan states. Minister Logar outlined Slovenia's priorities for the upcoming presidency of the Council of the EU, placing a particular emphasis on Slovenia's activities in the framework of development cooperation contributing to more balanced and fairer global progress, elimination of poverty and sustainable development. The two high officials also pointed out the importance of protecting the most vulnerable groups in society.
In the afternoon, Minister Logar was a keynote speaker at the Christmas tree lighting ceremony in St Peter's Square. In his speech, he thanked all who had a role in erecting the tree, saying, "The Slovenian Christmas tree conveys a message of peace: peace and unity between and within nations, safety, human dignity and conciliation," adding that it was also an important contribution to the promotion of Slovenia abroad.
In the morning, Minister Logar attended a mass for the homeland in St Peter's Basilica.