Minister Logar opens 9th Africa Day International Conference
For the ninth year in a row, the Ministry of Foreign Affairs organised the Africa Day International Conference as part of the Bled Strategic Forum. As always, the event was organised in cooperation with Chatham House, the Royal Institute of International Affairs, and the European Commission. Marking a first for the Conference, this year the event was held virtually, focusing on the central issue – Africa and the EU: Cooperation for a Sustainable Future.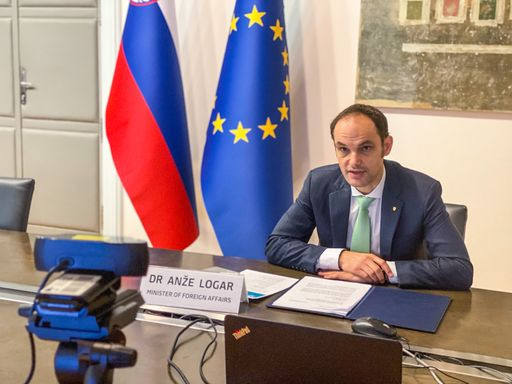 Natalia Al-Mansour, Head of Department for Africa and the Middle East
State Secretary Tone Kajzer
In the introductory part, the participants were addressed by the Minister of Foreign Affairs, Anže Logar, who pointed to the global effects of the COVID-19 pandemic and climate change. Speaking about Slovenia's comprehensive approach to water as a natural asset, he explained that Slovenia views this as a question of sustainable development, peace and security, and human rights. In the past, cooperation on water management and access to water has proved an important factor in conflict prevention and the strengthening of relations. This important realisation will also be put to good use during Slovenia's upcoming EU Council Presidency.
Later on, the participants were also addressed by Jutta Urpilainen, Commissioner for International Partnerships, Prof Victor Harison, Commissioner for Economic Affairs, African Union, Ambassador Raychelle Awuor Omamo, Cabinet Secretary for Foreign Affairs of the Republic of Kenya, and Alvin Botes, Deputy Minister of International Relations and Cooperation of the Republic of South Africa.
Following the keynote addresses by senior representatives, three roundtables discussed topics adapted to current developments worldwide. The first one focused on enhancing EU-Africa cooperation on climate policy and the green economy, while the second discussed the effects of the COVID-19 pandemic in terms of shared opportunities for stronger socioeconomic recovery, and the third the effects of the pandemic on the private sector.
State Secretary Tone Kajzer brought the Conference to a close. He stated that Slovenia remains fully committed to making the EU climate-neutral by 2050, including through the green transition. At the same time, he stressed that the topics discussed at the Conference were a crucial building block in achieving all-round social, political, and economic progress, as well as inclusive growth and sustainable development at the national, regional, and global levels. In conclusion, the State Secretary underlined Slovenia's plan to continue its efforts to establish and strengthen bilateral ties with African countries and organisations.