Slovenia and the US sign a Joint Declaration on 5G Security
Ministry of Foreign Affairs
Today, Slovenian Foreign Minister Dr. Anže Logar and US Secretary of State Mike Pompeo signed a Joint Declaration on 5G Security.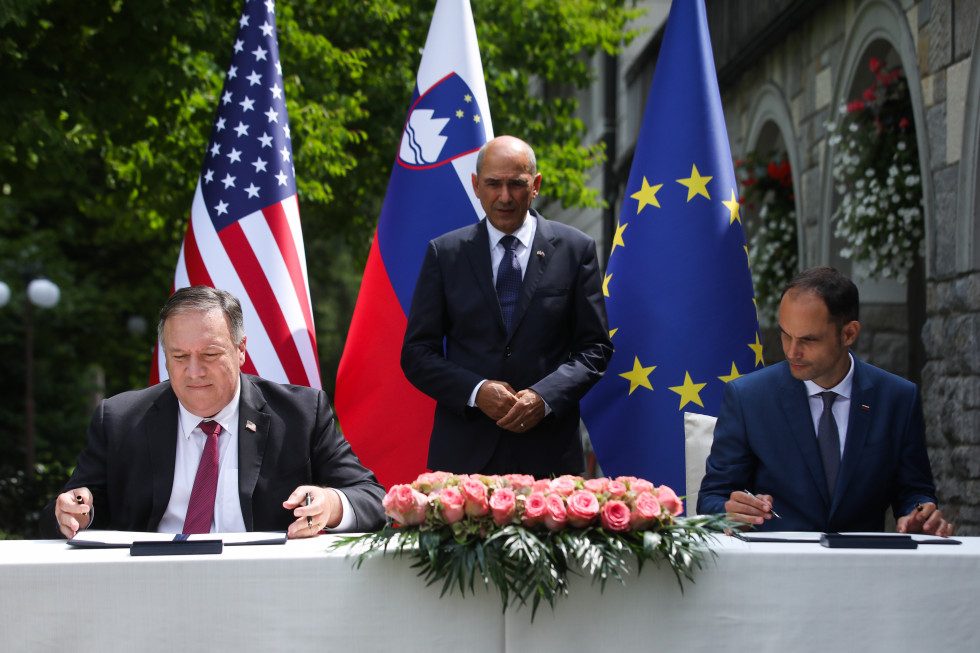 oreign Minister Dr. Anže Logar
Signing of the Joint Declaration on 5G Security
Signing of the Joint Declaration on 5G Security
Slovenia and the United States agree that to promote a vibrant and robust 5G ecosystem a rigorous evaluation of suppliers and supply chains should take into account the rule of law, the security environment, ethical supplier practices and a supplier's compliance with security standards and best practices.
In that sense, the Joint Declaration reflects the importance that both countries attach to implementing the London Declaration, adopted by the Allied Heads of State and Government in December 2019, in which NATO and Allies committed to ensuring the security of their communications, including 5G, recognising the need to rely on secure and resilient systems. It is also in line with the current activities within the EU.
The Joint Declaration builds on Slovenia's efforts in the past several years to strengthen cybersecurity in the country. Cybersecurity was thus emphasised in the 2019 Resolution on National Security Strategy of the Republic of Slovenia, and included in the Defence White Paper issued in January 2020. Slovenia is also in the final stages of joining the NATO Cooperative Cyber Defence Centre of Excellence in Tallinn, Estonia.