Minister Logar at today's EU Foreign Affairs Council meeting about Slovenia's successful containment of the COVID-19 epidemic
Foreign Minister Dr Anže Logar today took part in a video conference of EU ministers of foreign affairs, which was led by the High Representative of the Union for Foreign Affairs and Security Policy, Josep Borrell. The central topic of the fourth video conference of foreign ministers was the impact of the COVID-19 pandemic on the regions of North Africa and the wider Middle East. Minister Logar was pleased to inform his European colleagues that, as of today, Slovenia has declared an official end to its COVID-19 epidemic as a result of good epidemiological results.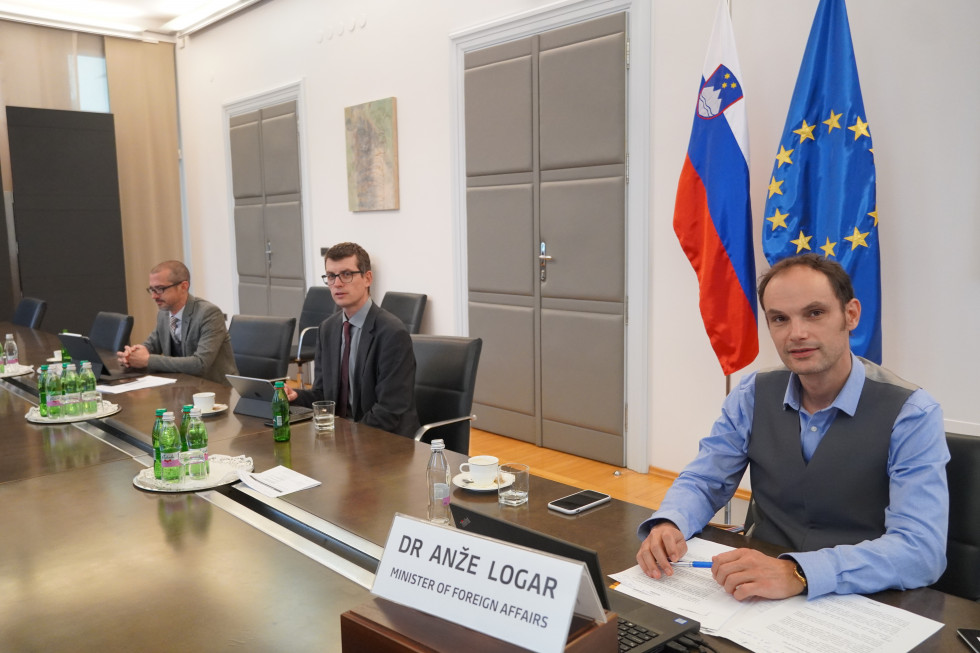 Audio-video conference of the EU Foreign Affairs Council meeting
High Representative Borrell began the meeting by informing the participants of certain topical developments, including the EU-Western Balkans Summit held in Zagreb on 6 May and the upcoming donor conferences for Venezuela and Sudan. He also pointed to Turkey's illegal drilling activities in the Eastern Mediterranean, regarding which the ministers confirmed the text of the joint statement.
Later on, the High Representative underlined the developments relating to the Middle East Peace Process. During the debate, most member states, including Slovenia, called for unity and credibility of the Union, as well as for the development of constructive bilateral relations between the EU and the future Israeli government, including the promotion of the revival of the peace process aimed at a two-state solution. Minister Logar went on to advocate the Union's enhanced dialogue with all stakeholders, i.e. Israel, Palestine, the United States, and relevant Arab countries, aimed at their common objective – bringing lasting peace and stability to the Middle East.
The next item on the agenda was the impact of the pandemic on the Southern Neighbourhood and the wider Middle East. Beset by numerous crises and regional tensions, this region remains of strategic importance for the EU, especially in terms of security. The ministers also exchanged views on socio-economic and politico-security implications of COVID-19 in the region, welcoming the EU's immediate response and the already proven solidarity and support.
During the video conference, Minister Logar also outlined the importance of the EU-Western Balkans Summit, advocating for continued close partnership between the EU and the countries in the region in all areas.
For additional information, please visit: