Hybrid threats and incident prevention the focus of the Vienna session of the OSCE Structured Dialogue
Andrej Benedejčič, Ambassador-at-Large for arms control, disarmament and non-proliferation, attended in Vienna a session of the informal Structured Dialogue working group on the current and future challenges and risks to security in the OSCE area. This meeting, held in capital format, focused on measures to increase transparency and on hybrid threats, above all on strengthening resilience and raising awareness about the dangers hybrid threats pose in the contemporary security environment.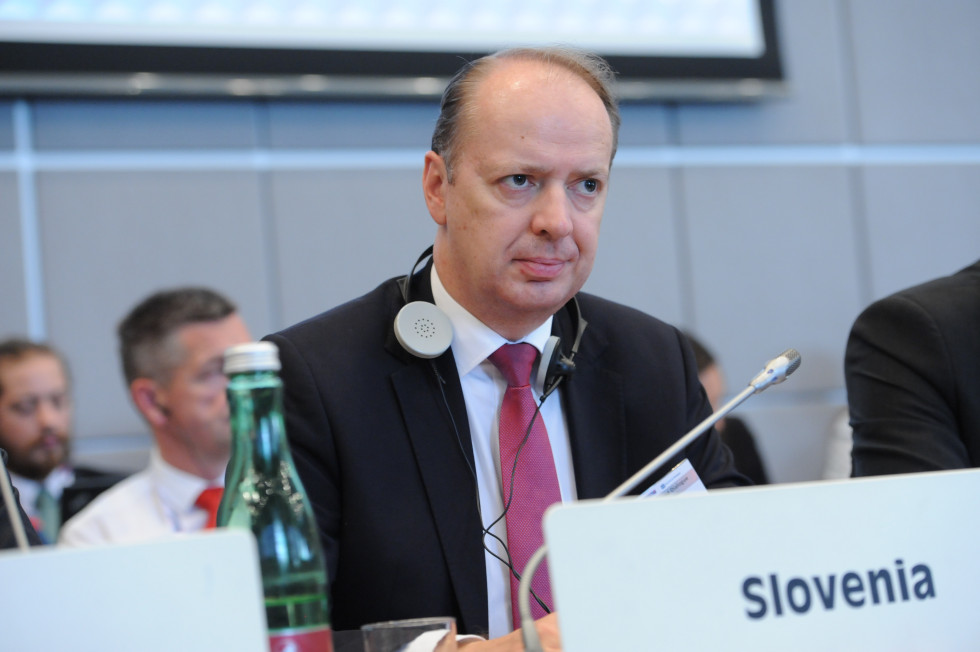 Vienna session of the OSCE Structured Dialogue
Vienna session of the OSCE Structured Dialogue
At the meeting, Ambassador-at-Large Benedejčič said that Slovenia was aware of the dangerous new challenges, which is why it joined the European Centre of Excellence for Countering hybrid Threats in Helsinki in June this year, and was now in the process of joining the NATO Cooperative Cyber Defence Centre of Excellence in Tallinn. In addition, Slovenia has been systemically addressing the issue of disinformation, particularly by raising the awareness of public employees and the general public as to the danger it poses.
He went on to convey Slovenia's belief that the OSCE had great potential for addressing hybrid threats, particularly owing to its comprehensive approach to security. Given that democratic institutions are among the main targets of this type of threats, the OSCE – as an organisation promoting, among other things, the rule of law, human rights, democracy and fair elections – in itself plays an important role in increasing resilience to these challenges. Furthermore, the OSCE could become more engaged in developing confidence- and security-building measures (CSBMs) and "cybernisation" of the Vienna Document, as suggested at the first Security Dialogue in the framework of Slovenia's Chairmanship of the OSCE Forum for Security Co-operation in June last year.
The session will continue on 20 September at the expert level; in a specially designed workshop, participants will address the prevention and management of incidents at sea and related national practices of the OSCE participating States' naval forces.